Renewables power 100 percent of Vermont city
September 17, 2014
The city of Burlington produces all of its electricity from renewable sources.
Biomass, wind and water are three of the renewables from which Vermont's largest city generates its electricity and it reached this achievement this month after Burlington Electric Department purchased the 7.4 MW (megawatt) Winooski 1 hydroelectric project.
Vermont seeks to achieve a statewide renewable energy goal.
Burlington was not the first to accomplish this goal in the state. Washington Electric Co-operative reached this target earlier this year and services approximately 11,000 customers throughout central and northern Vermont.
The commissioner of the Vermont Department of Public Service, Christopher Recchia, said that ''It shows that we're able to do it, and we're able to do it cost effectively in a way that makes Vermonters really positioned well for the future."
The increased dependence on alternative energy sources, more specifically, renewable forms of power, is part of a larger movement for the U.S. state, which is attempting to obtain 90 percent of its energy, which includes electricity, transportation and heating, from renewables by 2050
According to Recchia, throughout Vermont, residents are urging electric utilities to offer them renewable sources of energy and the utilities are paying attention.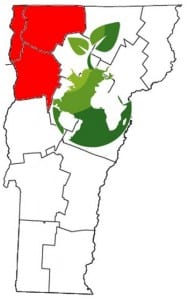 Obtaining energy from renewables is a movement that is growing across America.
All over the United States, governments and businesses are looking for ways to become more energy independent and to generate power from sources other than fossil fuels that are less harmful to the environment.
According to the founding director of the Southern California-based Renewables 100 Policy Institute, Diane Moss, many communities are working on 100 percent renewable energy goals, but she is not certain if any other community as big as Burlington, which has a population of 42,000, has reached this target. Moss commented that "It's these front-runners that are showing that it's possible.''
For Burlington Electric and Washington Electric, achieving their success was due to years of strategically planning to wean the utilities off of traditional power sources. Burlington Electric's power resources manager, Ken Nolan, said that the company's thoughts about renewables went through a transition process. In 2004 they were thinking that they wanted to do it, but by 2008 it wasn't just something they wanted to do, it was actually making economic sense for them to do it.