Solar energy to receive boost in Pakistan
January 13, 2015
Pakistan approves clean energy expansion to help combat worsening energy crisis.
Pakistan is embracing solar energy and is adding it to the national grid in its efforts to improve the country's clean energy efforts, and has approved the use of rooftop solar installations and mortgage financing for residential solar panels, according to Reuters.
The government eliminated a tax on imported solar equipment.
The government eliminated the 32.5% tax it had imposed on imported solar equipment and the goal of eliminating the tax is to lower the cost of solar panel installation. In addition, net-metering was approved, which will permit those who purchase solar panels to sell the energy they generate to the national grid. This is considered a major breakthrough as, according to Asjad Imtiaz Ali (the CEO of the public organization Alternative Energy Development Board) it could help the country's government to cut power shortages over the long term.
The CEO said that the "The initiative will help scale up demand for solar energy across Pakistan." He added that "we hope the increased demand will also result in sufficient decreases in the price of solar equipment."
Ali also commented that by allowing those with solar panels to sell their extra producing capacity, this means that consumers can install solar systems on their rooftops and sell the excess power to the national grid.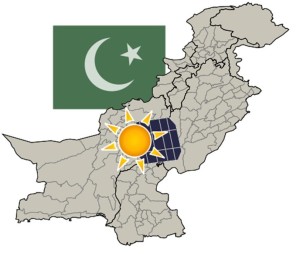 This is good news considering that, presently, the country's rural area often experiences blackouts that can last over 11 hours per day, while urban centers often experiencing eight hours of blackouts. In total, the energy shortfall stands at about 6,000 MW (megawatts).
Ali believes that net-metering will not only assist consumers in obtaining uninterrupted power and energy credits year-round, but it will also help the government bridge its energy shortfall.
The State Bank of Pakistan has been allowed to finance residential solar energy for the first time.
Fariha Mir, a senior manager at Bank Alfalah Limited, a private bank, said that it will be able to provide up to five million rupees in financing for rooftop solar installations, and this program will be launched in the first quarter of 2015.
Mir explained that the bank would provide loans to customers who wanted to change their homes to solar power. It is a five year program that enables buyers to borrow against the value of their home.
Nauman Khan, the one panel importer and CEO of Grace Solar Pakistan, along with the heads of two other solar businesses, and with Bank Alfalah Limited, intend to install rooftop solar energy on 100,000 homes over the next two to three years in Lahore, Islamabad, Rawalpindi, and Karachi.