Wind energy projects to be connected between the Netherlands and Denmark
September 12, 2014
Interconnection project launched by Energinet and Tennet, seeking to connect 700 MW of wind energy between two countries
Dutch and Danish energy grid operators have agreed to connect wind energy projects in both Denmark and the Netherlands. The project comes from Tennet, an electricity company based in the Netherlands, and Energinet, based in Denmark. An interconnector will be run between the two countries, connecting some 700 megawatts worth of wind energy projects that are currently operational. Both countries have shown strong support for wind energy, with Denmark showing particular interest in offshore projects.
Interconnection project expected to be completed in 2019, with construction beginning in 2016
Tennet expects that the interconnection will be completed in early 2019. The project highlights the integration of wind energy into the power structure of both countries, showcasing strong cooperation between Denmark and the Netherlands while also bolstering the energy security of the two countries. Both Tennet and Energinet will share ownership of the project and the companies are currently in negotiations to secure authorization to begin construction at some point in 2016.
Converter stations will play a vital role in the interconnection project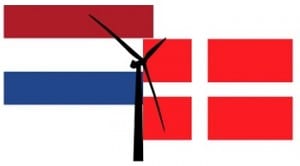 Converter stations will be constructed as part of the project. These stations will convert the alternating current electrical power that is being produced by wind energy systems into high-voltage direct current. This will allow the electricity to move more efficiently through the interconnection between the Netherlands and Denmark. The electrical power will be converted to direct current when it is being fed into one of the country's energy grids.
European Commission issues $86 million in funding to support the ambitious project
The European Commission is supporting the project with a $86 million grant that is being awarded through the European Energy Program for Recovery. Many European countries have been taking advantage of this program to bolster their clean energy capacity. Renewable energy is often seen as a viable way to promote economy recovery in the wake of the European sovereign debt crisis. While renewable energy projects are expensive to support, they have shown that they can spur economic growth to some degree.