6 Fuel Efficient Used Cars for Under $10K
January 11, 2014
A recent Market Intelligence survey from Kelley Blue Book found that 81 percent of car shoppers had their purchases influenced by gas prices.
With the national average price for a gallon of gas currently at $3.42, that's certainly understandable. But new car shoppers aren't the only ones who are concerned about fuel efficiency. Used car shoppers also rely on efficient fuel economy as another way to stretch their car buying dollars.
Plenty of used cars on the market not only offer a way to beat the depreciation curve, but they also offer plenty of savings at the pump. The next time you're in the market for a used car, don't hesitate to look at the following vehicles to make your future commutes more fuel efficient:
2004 – 2009 Toyota Prius: $6,500 to $10,000
Photo by OSX via Wikimedia Commons
The second-generation Prius offers plenty of style, comfort and refinement, as well as versatility due to its five-door profile. Thanks to its gasoline-electric Hybrid Synergy Drive system, it also offers 47 mpg combined. This makes the Prius an excellent proposition for affordable daily commutes and long-distance drives.
2003 – 2005 Honda Civic Hybrid: $8,500 to $10,000
Photo by IFCAR via Wikimedia Commons
Unlike the ordinary Civic, the hybridized edition uses Honda's second-generation Integrated Motor Assist system to deliver a combined 41 mpg. It offers all of the comforts and features of its more conventional brethren. Also, it's one of the few hybrid vehicles built with the option of a manual transmission.
2008 Toyota Corolla: $8,500 to $10,000
Photo by IFCAR via Wikimedia Commons
Widely considered the world's most popular car with over 30 million sold worldwide, the Corolla is commonly considered the gold standard among frugal compact cars, according to Toyota. The 2008 model offers a combined 31 mpg because of its frugal 1.8-liter engine. With the newest generation on sale, now is a good time to consider shopping for one at a discount.
2002 – 2004 MINI Cooper: $7,500 to $10,000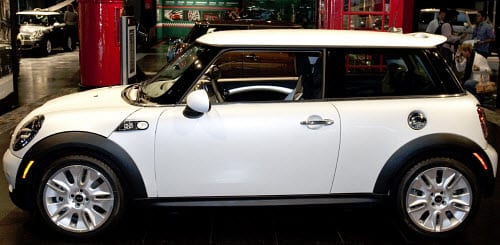 The MINI Cooper provides style and fuel efficiency. Not only do you get the MINI's iconic retro styling and a taut suspension, you'll also get a combined 32 mpg in everyday driving. Just stay clear of models equipped with the continuously variable transmission for reliability and cost. Make sure to check vehicle history reports and cost of ownership information.
2004 Volkswagen TDI diesel: $8,000 to $10,000
Photo of Volkswagen Golf by OSX via Wikimedia Commons
According to the Chicago Tribune, Volkswagen has the diesel passenger car market sewn up – the marque now accounts for 75 percent of segment sales in the U.S. VW's diesel trio. The Golf, Jetta and Beetle all feature a 1.9-liter diesel engine that achieves up to 36 mpg combined. For the 2004 model, the 1.9-liter benefits from high pressure, direct injection and other upgrades for improved fuel economy, emissions and performance.
2000 – 2001 Suzuki Swift & Geo Metro: $2,000 to $5,000
Photo of a Suzuki Swift by Rudolf Stricker via Wikimedia Commons
These two subcompact cars are fundamentally one and the same underneath the skin. Both cars share a 1.3-liter engine offering a combined 34 mpg, but the Metro is $1,000 cheaper on average because of its nameplate alone. In addition, the Metro also features an even smaller 1.0-liter engine, offering 36 mpg combined. 
Shaun Bestby
Shaun is an environmental consultant, having previously worked in government environment agencies.