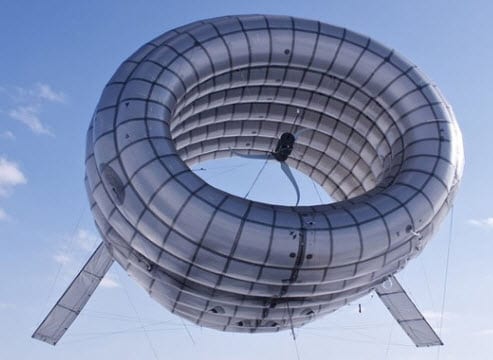 Altaeros Energies builds donut-shaped wind turbine to harvest energy at high altitudes
April 5, 2012
It maybe the future of wind energy…
Altaeros Energies, and alternative energy company specializing in wind power, has built what it believes will be the future of wind energy. The company has unveiled its innovative, donut-shaped blimp, which can harvest the power of wind at high altitudes. High altitude winds are often much stronger and more reliable that winds on the earth's surface. Thus, the sky is home to a great opportunity in terms of clean energy. Altaeros has successfully shown that high altitudes are not unreachable for wind power generators.
The donut-shaped blimp is called the Airborne Wind Turbine.
The turbine is attached to a blimp filled with enough helium to carry it into high altitudes. Altaeros Energies believes that this type of wind turbine is more effective than simply building conventional wind turbines more tall. The company launched a test of the blimp-mounted turbine last winter, where the blimp reached 350 feet and began generating electricity.
Altaros Energies had hoped to send the turbine some 2,000 feet into the air last year, but were unsuccessful due to mechanical problems.
Currently, the structure of the system is still not able to handle the volatile winds found at high altitudes. More work must be done before the system become viable as an energy source. Altaros believes that, one day, the sky will be filled with these kinds of wind turbines, however, and has further tests planned for later this year.