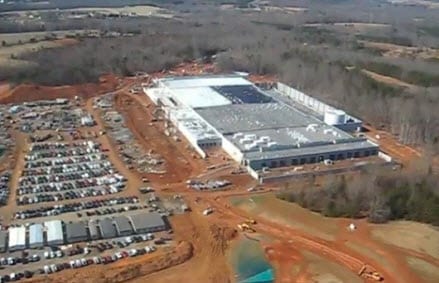 Apple to build new data center in Maiden, North Carolina
July 23, 2012

New data center to take root on Maiden campus
Technology giant Apple has been taking a more aggressive stance on its use of alternative energy recently. The company has managed to attract a great deal of attention for its use of hydrogen fuel cells and solar energy systems at its data center in Maiden, North Carolina. The data center is, in fact, home to the largest private hydrogen fuel cell system in the country. Apple seems keen to expand its use of alternative energy, however, as the company has announced that a new, smaller data center will be built near its larger facility in Maiden.
Facility expected to be powered by hydrogen fuel cells and solar energy systems
The new facility will encompass more than 21,000-square-feet and is being referred to as a "tactical" data center. The construction of the new data center is expected to cost nearly $2 million. The data center will feature robust security measures despite the fact that the area in which the facility will be built already boasts of tight security. It is expected that Apple will power the new data center using a combination of hydrogen fuel cells and solar energy systems.
Hydrogen continues to be a popular focus from Apple
Hydrogen fuel cells have become a popular energy option for data centers throughout the world. The energy systems are acclaimed for their ability to continue generating electricity even in the event of a massive power outage. For this reason, they have become a popular back-up energy system for technology companies that provide online services to consumers. Apple has shown interest in hydrogen fuel cells for this reason, but also because the energy systems may help the company reduce its impact on the environment.
Apple expected to continue expanding its Maiden campus
Apple's new data center is not likely to be the last to come to its Maiden campus. As the company continues to expand the services it provides to consumers, the need for new data centers is growing. As Apple begins to support emerging technologies – like NFC – and concepts – like mobile commerce – the company will begin seeing higher demand for additional data centers. Thus far, Apple has shown commitment to ensuring that its data centers are powered responsibly.
Related article(s) and resources:
http://www2.journalnow.com/news/2012/jul/19/apple-building-new-smaller-data-center-maiden-ar-2444930/