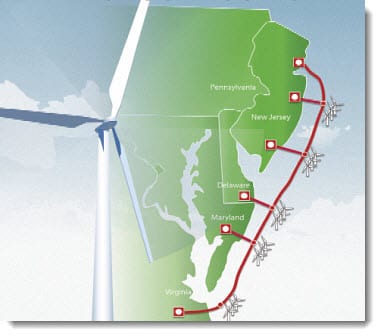 Atlantic Wind Connection moves forward with energy transmission plans
January 22, 2013

Atlantic Wind Connection continues work on offshore energy transmission line
An ambitious energy transmission project is moving forward in the U.S. The project is meant to transfer energy from offshore wind farms off the eastern coast of the country, and funnel this energy back to the mainland. The endeavor is backed by several prominent investors, including Google, that believe that a comprehensive energy transmission line is necessary for alternative energy to be considered more viable for the country. The investors backing the project are part of a consortium called the Atlantic Wind Connection.
Transmission line will be built off New Jersey coast
The Atlantic Wind Connection aims to establish 12 miles of energy transmission lines off the coast of New Jersey. This will be the first step in a ten-year plan wherein the energy transmission line would extend from Maryland to New Jersey, connecting with the mainland energy grid. The energy transported through the transmission line will be generated by offshore wind turbines that are located near Maryland.
Transmission line may help alleviate costs associated with wind energy
The Atlantic Wind Connection believes that the energy transmission line will help reduce the costs associated with offshore wind energy. Costs have, indeed, been a major hurdle for this form of alternative energy. Apart from the construction costs associated with offshore projects, transmitting energy back to the mainland has long been a complicated and expensive feat. The Atlantic Wind Connection expects that a working transmission line will help alleviate some of the problems associated with offshore wind energy systems and the energy they produce.
Atlantic Wind Connection has high hopes for new transmission line
The offshore wind energy system that the transmission line is being built for was first announced in 2010. Since then, the expansive system has been built in numerous phases. The entire wind energy network is not yet finished, but some wind farms off the eastern coast of the U.S. have begun generating energy. Once the transmission line is established, this energy will be ready available for those that may need it.