China is growing more aggressive with its solar energy goals
July 28, 2015
Solar energy is gaining more support in China
China is considering adopting a new solar energy goal as part of its 13th five-year plan. The new plan involves a stronger focus on solar energy, which has become a very prominent force in China. The country has invested quite heavily in this form of energy over the past few years, with numerous manufacturers flooding the market with photovoltaic products that are inexpensive and quite effective. China has revised its solar energy goals numerous times, as the country has proven very capable of bringing solar power projects online.
National Energy Administration aims to increase country's solar capacity to 100 GW by 2020
In 2009, China had a goal of reaching 5 gigawatts of installed solar energy capacity by 2015. This goal was then increased to 35 gigawatts and China is expected to achieve this goal very quickly. As of the end of the first quarter of this year, the country's solar energy capacity stood at 33.12 gigawatts. Now, the country is looking to further increase its goal, with the National Energy Administration has announced plans for China's solar energy capacity to reach 100 gigawatts by 2020.
China may further increase its solar energy goals for the future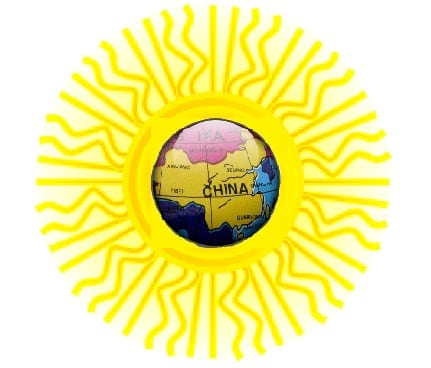 There is some speculation that the 100 gigawatt goal may not be set in stone, however, as the country may further increase this goal to 200 gigawatts. This is largely due to China's proclivity to beat its own goals when it comes to solar capacity. A recent study from the Energy Research Institute predicts that 57% of China's energy will come from renewable sources by 2030, just as its economy growth aggressively as well.
Country has a significant impact on the solar energy market throughout the world
China is one of the world's leading solar energy markets and the country plays a major role in the global market, as well. Chinese manufacturers have successfully launched photovoltaic products in other countries and the speed at which these products have been produced has lead to a drop in the cost of solar energy.