City in Iowa starts recycling program to keep asphalt shingles out of landfill
November 4, 2015
The city of Cedar Falls has engaged in a new recycling business.
A new recycling program is underway at the Cedar Falls solid waste transfer station, and it involves grinding about 800 tons of asphalt shingles so that the leftover material can be reused on road projects by Aspro of Waterloo, keeping the shingle waste out of landfill. According to Brian Heath, Cedar Falls parks and public works supervisor, the recycling project is believed to be one of the first of its kind in Northeast Iowa, reported the Waterloo Cedar Falls Courier.
The recycled material will be used for asphalt paving.
Heath explained that the shingles are ground into a material that closely resembles compost in consistency. This material will be used by Aspro of Waterloo for asphalt paving. It will be combined with Aspro's own product on road surfaces before or by the spring of 2016.
Aspro principal Milt Dakovich commented on the recycled shingles material, saying that "It's another recyclable product. There's asphalt in there that's reusable. It's a good way to recycle."
The city is offering contractors reduced rates if they choose to take part in the recycling program.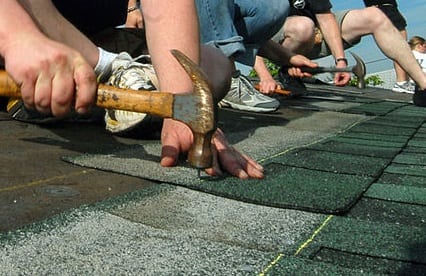 To encourage contractors in the area to recycle, Cedar Falls is offering contractors from Black Hawk and Bremer counties a reduced rate if they take part in the recycling program, compared to what they would pay to dispose of the shingles at the Black Hawk County landfill.
In addition to large contractors, the recycling initiative is also open to residents who engage in do-it-yourself projects. Anyone can participate, according to Heath, as long as they follow the rules.
"If they're looking to recycle, keep it out of the landfill, I'm all for it," Heath said.
Shingles that are dropped off must be free of wood shake, packaging and any flashing material. It is acceptable for shingles to have felt paper and nails, as nails are magnetically separated in the recycling process and also reused.
The recycling program will not only save time and the cost of the asphalt shingles clogging the city's recycling equipment and transporting shingles to the landfill, it is also expected to net the city $19 per ton on the material.