Daimler CEO has little favor for hydrogen fuel cars
January 17, 2014
CEO has yet to be won over by the concept of fuel cells in transportation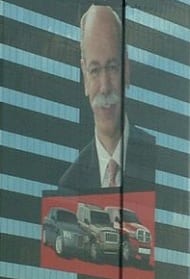 Daimler, one of the world's leading automakers, has been a supporter of hydrogen fuel for the past few years. The company, alongside its various offshoots, has been aiding in the development of a hydrogen fuel infrastructure throughout Europe in the hopes of building a strong foundation for the release of hydrogen fuel cars. While the company has been showing support for fuel cells and their use in transportation, its CEO, Dieter Zetsche, has little hope for the future of fuel cells in the auto industry.
Daimler is among the automakers planning to release a fuel cell vehicle
In 2013, Ford, Nissan, and Daimler joined together to accelerate the development of fuel cell technology and its implementation in transportation. This joint venture has a goal of release a marketable hydrogen fuel vehicle by 2017. This endeavor aligns well with the plans that other automakers have concerning fuel cells and their place in modern and future transportation. Many automakers have plans to release the first iterations of their fuel cell vehicles in 2015. Daimler's Mercedes-Benz division is one of the automakers that believe that a working hydrogen fuel infrastructure will be in place by that time.
Autonomous vehicles are more attractive to CEO
Daimler's CEO believes that fuel cells will find difficulty reaching marketability in the transportation sector. Not only are these energy systems very expensive, they are also somewhat inefficient and do not have the support of a comprehensive fuel infrastructure. Zetsche has been much more optimistic about the prospect of driverless vehicles, claiming that such autonomous vehicles are much more viable than vehicles powered by fuel cells.
Daimler demonstrates its autonomous technology
Autonomous vehicles have been an interest for the auto industry for several years. Recently, Daimler engineers have been showing off their "Distronic" technology that can pilot a car successfully for as much as 60 miles. The technology is able to control all of a vehicle's motor functions, including braking and acceleration. While Daimler's CEO may be more interested in autonomous vehicles than fuel cells, the company as a whole will continue its focus on fuel cell development well into the future.