World's largest solar energy plant to take root in India
January 20, 2014
India to build the world's largest solar energy system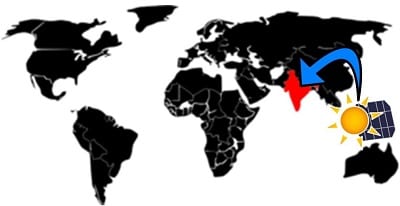 India's population is growing quickly, as is its energy consumption. In order to better manage the demand for electrical power, India has been focusing more intently on solar energy. Since 2010, the country's total installed solar capacity has grown to over 2,000 megawatts. Now, the country is looking to further increase its solar capacity by building the world's largest solar energy plant. This new energy system is part of Prime Minister Mammohan Singh's plan to make "the sun occupy center-stage."
Solar power plant will cost approximately $4.4 billion
The new solar energy plant will cost an astonishing $4.4 billion and is expected to launch India's solar market into the global limelight. India has been gaining more attention from energy developers but the country itself has been relatively slow in showing favor for solar projects due to a turbulent economic environment. As the cost of solar technologies has fallen, India has begun growing more aggressive with its support and the government has been adopting policies that support domestic solar development and offer foreign energy developers incentives to come to the country.
Project will help India make progress toward its renewable energy goals
The new solar energy plant is expected to take root in Rajasthan and will boast of a total capacity of 4,000 megawatts. This energy system will help India make significant progress toward its goal of reaching 20,000 megawatts of grid-connected solar power by 2022. The project is being made possible by the rapidly falling prices of photovoltaic technologies. The plant will make use of solar panels and similar technologies that are manufactured in China.
India works to catch up to other countries that are focusing on solar power
India is currently behind other large countries when it comes to solar capacity. Germany, for instance, boasts of over 35,000 megawatts of installed solar capacity and is considered a world leader in the realm of solar power. Other European countries have been aggressively pursuing solar power because of its economic promise. By adopting solar energy and forsaking coal, many countries believe they can find a greater degree of economic stability.