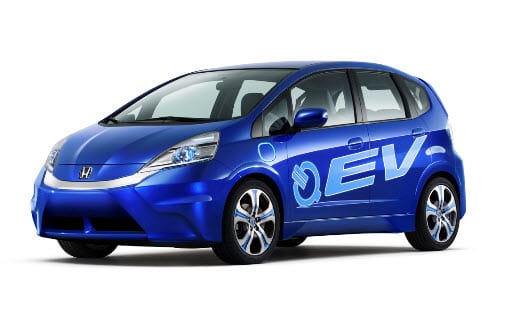 EPA identifies most fuel efficient vehicle ever
June 7, 2012

Fuel efficiency continues to attract attention from consumers
As environmental issues begin to draw more attention, consumers are beginning to focus on fuel efficiency as a way to reduce their impact on the environment and save money at the pump. Efficiency and sustainability go hand-in-hand and fuel efficiency has been considered one of the best ways to reduce energy costs in the U.S. and help the country break away from fossil-fuels entirely. In an effort to identify car manufacturers that produce vehicles that are designed with fuel efficiency in mind, the U.S. Environmental Protection Agency (EPA) has taken to rating vehicles based upon their efficiency capabilities. This year, the agency has announced that it has found a vehicle that has beaten the efficiency record set by the Mitsubishi i.
Honda Fit EV becomes the most efficient vehicle ever built
The EPA has singled out the 2013 Honda Fit EV as the most fuel efficient car ever. The vehicle, with is powered by a lithium-ion battery, is entirely electric, which holds implications concerning its fuel efficient nature in and of itself. According to the EPA, the Honda Fit EV boasts of a fuel efficiency of 118 miles per gallon-electric. Though this may seem like a modest step above the standard set by the Mitsubishi i – 112 MPGe – Honda has managed to accomplish a feat nonetheless.
Honda highlights the economic benefits of the Fit EV
The automaker notes that the Honda Fit EV is the culmination of years of development and signifies a major accomplishment in terms of energy efficiency and alternative energy technology. Honda claims that the energy consumption of the vehicle comes in at 29 kilowatt hours per 100 miles. According to EPA estimates, this translates into approximately $500 worth of fuel each year. The vehicle can also be fully charged in less than three hours, thanks to new fast charging technologies developed by Honda.
Consumers expected to take fuel efficiency more seriously due to financial benefits
Fuel efficiency is likely to be subject to increased attention as more consumers begin taking note of the economic benefits that can be reaped through efficiency. There is no telling when the Honda Fit EV will be dethroned from its position as most fuel efficient vehicle ever.