First wind energy farm planned for Arkansas
February 11, 2015
The wind farm is expected to have an 80 MW capacity.
A Texas wind energy company, Dragonfly Industries International, hopes to bring numerous turbines to more than 300 acres of rural land, located approximately one mile west of Elm Springs, Arkansas (a city located between the Springfield Plateau and the Boston Mountains), and the turbines are anticipated to produce 80 MW (megawatts) of power.
The wind project is estimated to cost a minimum of $100 million.
According to City Council and Planning Commission minutes, the wind farm will carry a price tag of at least $100 million. However, the energy it provides could result in the powering of tens of thousands of homes.
Dragonfly Industries International is hoping that if the project is given the go-ahead, that Elm Springs will annex the land, which would give the small town of less than 2,000 people a tax advantage. As stated in the City Council minutes, in anticipation of the project, the wind power company from Texas plans to move to Northwest Arkansas.
That being said, while there have been talks of the wind project, firm details have not yet been released or confirmed.
This isn't the first time the building of wind energy farms has been attempted in the state.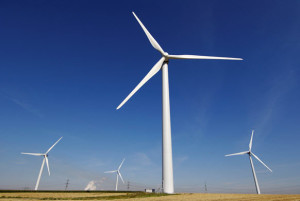 The Texas company would be the third to try to bring a wind energy project into Arkansas's northwest corner. The Harrison Daily Times reported that back in 2008, TradeWind Energy, a Kansas-based company, attempted to construct 150 turbines in Searcy County and also considered building a wind farm in Benton Country. Both of these projects never came to fruition.
The Searcy County project failed because there wasn't enough customer interest and the Benton County plans fell through due to concerns over the impact the construction would have on the environment.
The board chairman for the Arkansas Renewable Energy Association, Frank Kelly, said he "wouldn't advise anyone doing it." He added that it would be far more sensible to invest in solar energy. The reason being is that the steadiest winds in the state's prime windy region is about 450 feet up and, based on the City Council minutes, Dragonfly's wind turbines would only be 100 feet tall.
Presently, the state purchases wind energy from other states, including Kansas and Oklahoma.