Fun, Fast and Fuel-Efficient: 3 Hybrids that Perform
October 26, 2013
Deciding on a new car is stressful, even when you're only considering the basics like cost, reliability, looks and size. Throw in the environmental impact of your vehicle and you could get a migraine. Make it easier on yourself by focusing on your main concerns and narrowing your options accordingly before deciding if you can lease or buy a new performance hybrid. There are plenty of hybrids with speed, performance and good gas mileage available that won't cost you as much as a new condominium.
BMW ActiveHybrid 3 Sedan
Photo by Luc106 via Wikimedia Commons
According to eperformance.com, the BMW ActiveHybrid 3 Sedan gives you the best acceleration of ready-for-sale hybrids on the market, going from 0-to-62 miles per hour in 5.3 seconds. Top speed in hybrid mode is 155 mph, while the electric coasting mode can reach 100 mph. The speed and performance of this BMW, with its combined 28 miles per gallon, give you an attractive, fuel-savvy vehicle you'll be proud to drive in with your environmentally conscious friends. With seating for five, the ActiveHybrid 3 Sedan scored five stars in safety tests, making it fun and family friendly.
The 3-series hybrid features a 300 horsepower engine, and a 55 horsepower electric motor powered by a lithium ion battery, combining for a 335 horsepower output. Car and Driver reports the car drove for 2.5 miles in pure electric mode, reaching 44 mph on flat road.
Infiniti M35h AT
Photo by Thesupermat via Wikimedia Commons
The Infiniti M35h AT 0-to-62 mph time was 5.5 seconds, two-tenths of a second slower than the BMW above. It offers a similar top speed in hybrid mode, but actually reaches a higher speed (62 mph) in pure electric mode. The Guinness Book of World Records lists the M35h as the fastest hybrid in a quarter-mile at 13.9031 seconds.
The M35h AT offers a slightly higher combined mpg of 29. This sedan also seats five and received five-star safety ratings. Hybridcars.com puts the combined output of the M35h's V-6 engine and electric motor at 369 horsepower. The lithium ion battery goes 1.2 miles on pure electricity.
BMW ActiveHybrid 7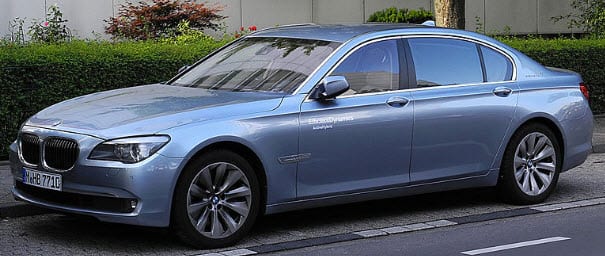 Photo by M 93 via Wikimedia Commons
Another BMW sedan landed in the top three of eperformance.com's rankings of the fastest fuel-efficient hybrids. The ActiveHybrid 7 accelerates from 0-to-62 in 5.7 seconds. It features similar top speeds as its 3 Sedan cousin, with 155 mph in hybrid mode, 100 mph in electric coast mode and 37 mph in pure electric mode. This luxury car gets 25 mpg combined, seating five and offers numerous safety features like head and knee protection systems, dynamic stability control and side-impact airbags.
In the Chicago Tribune's review of 2013 hybrid cars, it noted that the engine was changed to a 3.0-liter V-6, slightly less powerful than the V-8 in previous models. However, the combined output of 350 horsepower keeps it among the fastest hybrids.
Tom Moody
Tom is a retired auto mechanic who blogs about cars from his California home.