Geothermal energy may help power rural India
February 12, 2015
The country plans to tap into the underground renewable resource.
There is plenty of geothermal energy in India, and though, presently, the vast majority of it remains untouched, the country's government is planning to extract 10,000 megawatts (MW) of this clean energy to power rural regions of the nation, reported India TV News.
India could become a global leader in the geothermal sector.
A national policy was recently drafted by the Union ministry of new and renewable energy (MNRE), which is aiming to make the country a world leader in the geothermal energy sector. In the first phase of the project, which ends in 2022, the goal is to generate 1,000 MW from the renewable source. The drafted policy is to be presented at the first global investors' meet on renewable energy, which is to take place in New Delhi mid-February. Those expected to attend the event include top foreign companies in the geothermal sector.
The MNRE believe that the country has the potential to produce 10,600 MWth (megawatt, thermal) from 340 hot springs over seven geothermal provinces in 11 of the country's states. The energy that is produced could be utilized to electrify rural areas of India, particularly for the cold-storages, according to scientist and head of the Geothermal Division, MNRE, Girish Kumar.
"Though the technology to generate power from geothermal energy is available, it is very site-specific; so major thrust of the proposed policy at present is on exploration, research and development of efficient pumps," said Kumar.
The first geothermal energy plant in India will be established in Balrampur district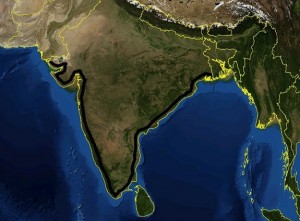 Currently, there are no geothermal plants in the country, as well as no installed geothermal electricity generating capacity, despite the fact that India was one of the earliest countries to begin geothermal exploration back in the 1970's. The development of renewable energy projects has taken a backseat to coal power, of which the country has in abundance and at cheap cost.
Tattapani in Blarampur district will be where the first geothermal energy facility will be located, and the decision to establish it there was made by the Chhattisgarh government and the NTPC. This is considered to be central India's most promising geothermal resource and, if the pilot project is successful, the state may plan the production of 10,000 MW in a decade.