Geothermal energy project in Vancouver is one of the most unique in the world
September 5, 2014
A structure in the Canadian city is being retrofitted with a "rechargeable battery".
The $2 million geothermal energy project is taking place in downtown Vancouver at Cadillac Fairview's 777 Dunsmuir Street Property, which is being converted from its steam system to a geo-exchange system to provide heating and cooling.
New drilling technology was utilized for the project.
The plan consists of drilling 30 boreholes 400 feet into the ground and should take about six months to complete. However, the dense urban environment presented Fēnix Energy, the company in charge of the drilling, with challenges. As a result, a new technology for drilling had to be created.
According to Adrian Ryan, Fēnix Energy's senior vice president of engineering, drilling takes place in the parking garage below the building and, to conduct the compact drilling, workers utilize a rotary mud solution along with a close looped system. Only some parking spaces are used and the tight drilling combined with cyclone technology helps to ensure the area remains clean. "The goal was to minimize the invasive nature," Ryan said.
The geothermal energy system is expected to save the building 65% on energy costs.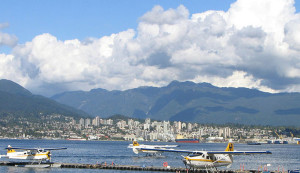 The system functions by collecting heat that is rejected by the building and storing it beneath the ground until it is required. Furthermore, the piping system that Fēnix Energy is installing is vertical, not horizontal. The buildings have the ability to exchange extra energy instead of letting the energy go to waste in the air.
Although geo-exchange systems are nothing new, what makes this particular project unique is that it is being retrofitted into an existing building and not being installed in a new project or where unused land is available next to a structure.
Ryan explained that the vast majority of geothermal building projects are designed for new buildings, which makes the geothermal retrofits in Vancouver one of the first of its kind in a main downtown area.
"We are very excited about the project. It is very innovative and significant for us," said Cadillac Fairview's senior operations manager, Jesses Gregson. According to Gregson, the retrofit will lower thermal emissions by as much as 85%. Before considering other buildings for the geothermal energy system, Cadillac Fairview is going to see how well the technology performs.