German utility giant is making the switch to green energy
December 5, 2014
E.ON is abandoning conventional energy for renewables.
One of the largest power suppliers in Germany, E.ON, has recently announced that it intends to gradually make the switch from conventional electricity production methods, such as nuclear, coal and natural gas, to green energy and distribution businesses, a process it intends to begin now.
Germany is working toward phasing out nuclear energy by 2022.
E.ON's decision to change is not only in response to its massive debt, but also European and German policies targeted at lowering carbon emissions. In fact, by 2022, Germany wants to phase out nuclear power entirely.
The utility has also said that it intends to spin off its conventional energy operations (nuclear, coal, oil and gas). This move will involve selling its businesses located in Portugal and Spain for €2.5 billion (approximately $3.11 billion) to Macquarie, an Australian investment firm. While the new spin-off branch will take control of traditional energy production operations in 2016, E.ON shareholders will still hold a majority stake.
E.ON.s chief executive officer, Johannes Teyssen, said that "We are convinced that it's necessary to respond to dramatically altered global energy markets." He added that "E.ON's existing broad business model can no longer properly address these new challenges."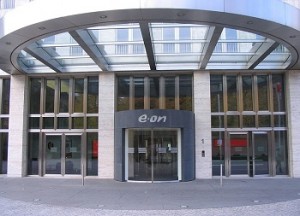 Other companies are expected to make a similar green energy change.
Maria Krautzberger, the president of Germany's Federal Environment Agency (UBA), told The Guardian that it is likely more companies will follow E.ON's switch to renewables and will make the move from nuclear and coal power to greener alternatives.
While the utility giant's announcement was a surprise, Krautzberger said that it also boosted the prospect of the country's ambitious Energiewende (energy transition) project finding success. She also said that she does expect other German companies will make similar announcements in the future.
Krautzberger said that RWE is contemplating shifting its energy production toward renewables and that it is also a prospect being discussed by EnBW. She added that "E.ON is actually the biggest player so it is consequent that they are the first to make this announcement."
It is highly likely that other utilities will gradually begin to embrace green energy in order to meet the European Union's pledge to reduce greenhouse gas emissions by 40% by 2030.