Google invests in wind energy
January 16, 2014
Google makes its 15th investment in clean power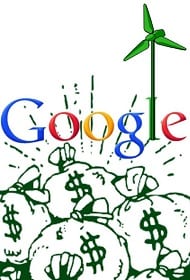 Google has made its 15th investment in renewable energy. The company announced earlier this week that it had pumped $75 million into the Panhandle 2 wind farm located in Texas. This is the second investment that Google has made into Texas' wind energy sector, with the first being a $200 million investment into the Spinning Spur Wind Project. Google is quickly establishing itself as a leading supporter of renewable energy, especially as the company continues to acquire firms that specialize in clean technology.
Nest acquisition provides Google with access to new skills and technology
Nest is one of Google newest and most high profile acquisitions. Google acquired Nest through a $3.2 billion deal. Nest is a clean technology firm that redesigns common household appliances and other technologies to be more environmentally friendly and visually appealing. Google's future plans with Nest are uncertain, but the company has a history of acquiring companies that offer something that aligns with Google's interests.
Wind project aims for 182MW of capacity
The Panhandle 2 wind farm is being managed by Pattern Energy Group and will boast of an energy capacity of 182 megawatts, enough to power approximately 56,000 average homes. The wind energy system is expected to be completed later this year and reach its full energy generation potential in early 2015. The funds that Google has pumped into the project will help accelerate its development and reduce some of the financial strain that the project has been experiencing.
Investors are uncertain about the viability of wind energy in the US
Investors have become somewhat leery of wind energy in recent months due to the uncertainty surrounding the Production Tax Credit, a federal initiative that had been supporting wind projects. The initiative was designed to provide energy developers with an incentive to bring their wind projects to the U.S. The Production Tax Credit expired on January 1 of 2014, seeding uncertainty among investors concerning the viability of wind energy projects. With the support that the federal incentive has offered, wind projects have become significantly more expensive and more risky, making investors less likely to support wind power.