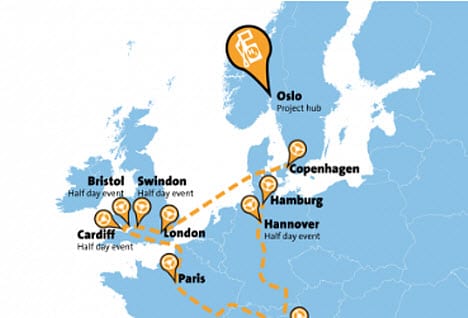 H2moves to launch European Hydrogen Road Tour
September 6, 2012
H2moves looks to show off the capabilities of hydrogen-powered vehicles
Hydrogen transportation is beginning to gain traction around the world and many automotive and fuel cell companies are keen to showcase the capabilities of hydrogen-powered vehicles. H2moves, a Scandinavian strategy and technology consultancy, has launched a European tour of hydrogen-powered vehicles this month. The event is designed to showcase the capabilities of hydrogen-powered vehicles and put to rest some of the concerns that exist regarding fuel efficiency, safety, and the performance of these vehicles.
European tour may boost consumer acceptance of clean vehicles
H2moves claims that its European Hydrogen Road Tour is the largest demonstration of hydrogen-powered vehicles with international exposure. Ten hydrogen-powered vehicles will be driven throughout Europe, making stops to participate in scheduled events along the way. The vehicles will make use of some of the hydrogen fuel stations that exist in Europe but will attain the majority of their fuel from an H2moves mobile fuel station. The aim of the initiative is to boost consumer acceptance of hydrogen-powered vehicles.
Major event may placate concerns regarding hydrogen transportation
Though hydrogen transportation has been growing in popularity, consumers are still torn on the concept of a vehicle equipped with a fuel cell. Fuel cell technology is often criticized for its lack of efficiency and the fact that hydrogen is an extremely volatile gas. Safety concerns have led many consumers to shy away from hydrogen-powered vehicles, while others are convinced that these vehicles simply cannot compete with their conventional counterparts. H2moves hopes to put these concerns to rest by showing that hydrogen-powered vehicles are both efficient and safe to use.
H2moves expects event to help prepare the market for the introduction of hydrogen-powered vehicles
The major automakers that are developing hydrogen-powered vehicles expect these products to be commercialized at some point in 2015. Some have plans to release their models earlier, but mass production is expected to reach its peak in three years time. The European Hydrogen Road Tour may set the stage for hydrogen-powered vehicles to generate the hype they will need to find success in the market.