Honda prepares to show off new hydrogen fuel cell car
October 2, 2015
Honda will be showing off its new prototype fuel cell vehicle in Japan
Japanese automaker Honda will be showcasing new vehicles at the Tokyo Motor Show near the end of October. The company's new prototype fuel cell vehicle will be on display during the event, which may be close to the final production version of the vehicle that will be released in the near future. Honda will also show off an autonomous concept vehicle, which shows that the automaker is taking a greater interest in the potential that self-driving vehicles represent.
Automakers are investing in the development of a hydrogen infrastructure
Honda was among the very first to introduce a hydrogen-powered car to the commercial market. The FCX Clarity first entered production in 2008 and Honda has made this vehicle available in a limited supply since then. The automaker has been looking for ways to improve hydrogen fuel cell technology and has also been investing in the development of a hydrogen infrastructure in prominent markets where fuel cell vehicles might find success.
FCV may feature a 435 mile range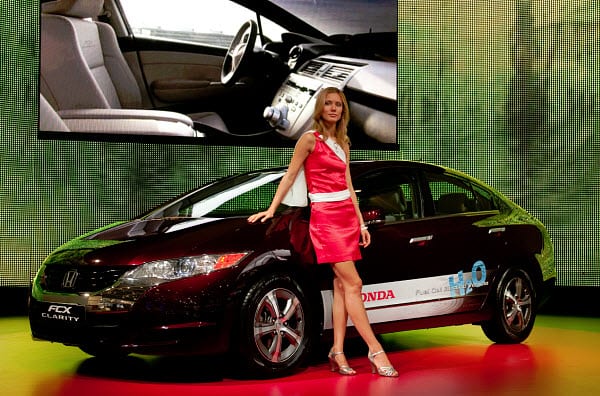 Honda's new fuel cell vehicle, tentatively being referred to as "FCV," may be the most fuel efficient vehicle in the auto industry. Honda expects that the production model of the FCV will be able to travel for approximately 435 miles on a single tank of hydrogen fuel. Toyota also has a fuel cell vehicle, which recently set a new fuel efficiency record of 312 miles on a single tank of fuel. The FCV is also larger than other fuel cell vehicles, offering more room for passengers. The electricity that the vehicle's fuel cell stack generates will be stored in lithium-ion batteries.
Auto industry continues to support fuel cell vehicles despite significant challenges
Fuel cell vehicles have yet to see a widespread commercial release, largely due to their expensive nature and the lack of a comprehensive hydrogen fuel infrastructure. Despite these challenges, however, automakers see great promise in the potential success of these vehicles. For some, fuel cells are becoming more attractive than conventional batteries that are used to power electric vehicles.