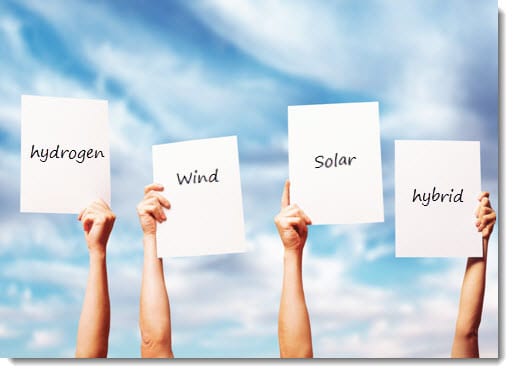 Hydrogen fuel cells winning more support from U.S. politicians
July 24, 2012

Politics continues to play major role in alternative energy
The U.S. Department of Defense recently began considering energy as a matter of national security. The agency has been aggressively pursuing the adoption of alternative energy systems in the hopes of breaking the country's reliance on foreign sources of power. The endeavor has been met with several challenges, the majority of which come from the realm of politics. Indeed, politics have played a major role in the country's use of alternative energy for several years. Because of the controversial association that alternative energy holds with climate change, politicians have long been wary of showing their support. Now, however, a group of politicians are beginning to campaign for the adoption of hydrogen fuel.
Senators come together to promote hydrogen fuel cells and their possible uses
Several U.S. senators recently joined the Senate Fuel Cell and Hydrogen Caucus, which has existed since 2010 but has been inactive for nearly two years. The caucus aims to promote hydrogen fuel and its associated technologies. In the not-so-distant-past, hydrogen fuel cells were considered unviable for official use by the government. This has changed over the years, however, due to a number of advances made to fuel cell technology. These advances have made fuel cells more efficient and affordable, thus making them more attractive to businesses and consumers and earning the support of politicians.
Bloom Energy cited as having beneficial impact on Delaware economy
Senator Chris Coons of Delaware has emerged as one of the chief supporters for hydrogen fuel cells from amongst the caucus. According to Senator Coons, hydrogen is one of the best ways to secure the energy independence and future security of the country. Coons cites the economic impact Bloom Energy, a manufacturer of hydrogen fuel cells, have has had on Delaware, the company's native state.
Hydrogen fuel cells may make progress in the U.S. if political support remains high
The Senate Fuel Cell and Hydrogen Caucus may be becoming more active as the country begins to take alternative energy more seriously. With support for hydrogen fuel cells reaching new highs, the caucus may be able to promote more accommodating policies concerning hydrogen fuel and its adoption. Time will tell whether the support for alternative energy continues.
Related article(s) and resources:
http://www.hydrogencarsnow.com/blog2/index.php/political-issues/hope-for-hydrogen-cars-in-washington-dc/