Hydrogen fuel may be the future of transportation, according to Kia
December 7, 2015
Kia believes that hydrogen fuel cells will revolutionize the transportation space
South Korean automaker Kia has high hopes for hydrogen fuel cells. These energy systems generate electrical power without also producing harmful emissions, and they have become very important tools for the auto industry. Doctor Sae Hoon Kim, head of environmental research and development for both Kia and Hyundai, has become a very vocal supporter of fuel cells, believing that they will play a major role in revolutionizing the transportation space.
Auto industry continues to show strong support for hydrogen fuel
Throughout the world, the auto industry is beginning to feel pressure from governments to make clean vehicles. These governments intend to cut emissions by a significant degree and the transportation space is being targeted to accomplish this endeavor. Automakers like Hyundai and Toyota have already brought fuel cell vehicles to the commercial market, but many more companies have announced that they will launching new fuel cell vehicles in the near future. Kia is one of these companies, with the automaker having recently revealed plans to launch a fuel cell vehicle in 2020.
Kia to launch fuel cell vehicles in 2020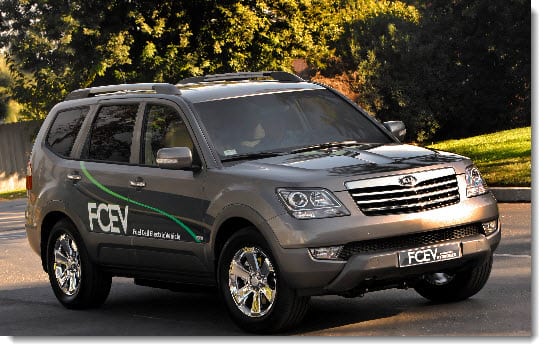 By 2020, Kia will be producing 1,000 units of its new fuel cell vehicle every year. These vehicles will compliment Kia's overarching clean transportation plan, through which it plans to launch a series of new vehicles that run off electricity rather than conventional fuels. According to Kia, transportation consumes 60% of all oil that is refined to produce electrical power, with the auto industry accounting for 23% of all harmful emissions produced. Making cleaner vehicles may help resolve this issue, but only if automakers can overcome the challenges that fuel cell vehicles, and clean transportation as a whole, face.
Hydrogen production stands at 38 million tons a year
Sae Hoon Kim suggests that hydrogen is the future of transportation. According to Kim, global hydrogen production currently stands at 38 million tons a year, which is enough to power approximately 190 million fuel cell vehicles. Kim notes that the value of this fuel is that it can be produced from any kind of energy, including renewable power.