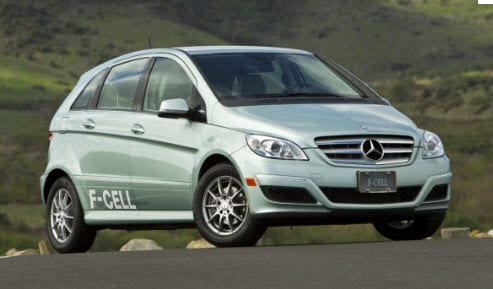 Hydrogen-powered vehicles could reach commercialization at the hands of Mercedes-Benz
June 28, 2012
Automaker celebrates the opening of new production facility
Mercedes-Benz is currently celebrating the opening of a new automated automotive facility in Burnaby, British Columbia, Canada. The facility is dedicated to the production of fuel cell stacks that will be used for hydrogen-powered vehicles. The facility is the first of its kind in the world and is expected to help prepare the way for mass production of hydrogen-powered vehicles. Mercedes-Benz has plans for the facility that extend beyond the manufacture of fuel cell stacks, however, and these plans could help with the commercialization of fuel cells.
Facility to draw upon technological and infrastructure resources from the AFCC
The 3,300 square meter facility is located in Cana for a specific purpose. With close proximity to the Automotive Fuel Cell Cooperation (AFCC), the facility will be able to benefit from a powerful technological and business environment. The presence of the AFCC long ago established an infrastructure capable of supporting the research and development of fuel cell stacks. Mercedes-Benz plans to make use of the resources made available by the AFCC to make advanced in the technology used in the company's hydrogen-powered vehicles.
Hydrogen-powered vehicles continue to find support from Mercedes-Benz
Mercedes-Benz, along with parent company Daimler, has been one of the most aggressive advocates for hydrogen fuel cells in the auto industry. The automaker was one of the first to attract global attention to hydrogen-powered vehicles with its successful world tour in 2010. The automaker's hydrogen-powered vehicles trekked the world with little difficulty. Though the vehicles had uninterrupted access to hydrogen fuel, Mercedes-Benz claims that the world tour showed how viable hydrogen-powered vehicles could be for transportation.
Research and development plans could produce significant advances in fuel cell technology
The automaker plans to conduct extensive research and development schemes at the new facility in Canada. Improving fuel cell stacks and making them more efficient and viable for commercial use is one of the goals Mercedes-Benz has set for the new facility. Progress toward this goal could add further momentum behind the commercialization of hydrogen-powered vehicles.
Related article(s) and resources:
http://www.hydrogencarsnow.com/blog2/index.php/fuel-cells/mercedes-benz-opens-worlds-first-automated-fuel-cell-production-facility/