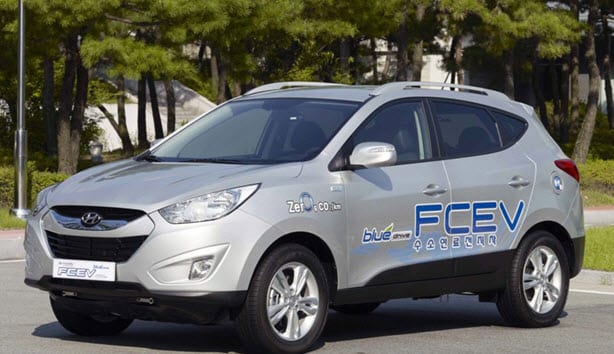 Hyundai highlights need for hydrogen infrastructure following last month's cross-country tour
October 19, 2011
Last month, Hyundai embarked on a cross-country tour of the U.S. to promote Childhood Cancer Awareness Month.
The tour was conducted in the Hyundai Tucson Fuel Cell Electric Vehicle, which is the first commercial hydrogen-powered car from the automaker. The U.S. is not well known for its abundant hydrogen infrastructure, which presented some problems for the tour as there was limited access to hydrogen fuel. While Hyundai maintained its focus on Childhood Cancer Awareness Month, the automaker also saw an opportunity to highlight the great need for an infrastructure in the U.S.
The majority of big-name automakers, including Toyota, Mercedes-Benz and Honda, are planning to launch the world's first commercial hydrogen-powered vehicles in 2013. The auto industry is hoping that the alternatively powered vehicles will be a great success, but are confronted with the problem of infrastructure. Most of the world does not have a hydrogen fuel infrastructure capable of supporting more than a handful of fuel cell vehicles.
Without an infrastructure, hydrogen transportation is likely to fail, which will translate into heavy financial losses for the auto industry and a continued reliance on oil.
Hyundai has joined efforts to promote hydrogen infrastructure with renewed vigor following the cross-country tour. The automaker has joined with Fuel Cells 2000, a non-profit fuel cell advocacy group, to help bring the issue to lawmakers in the hopes that an infrastructure will be in place by 2013.