Hyundai to launch hydrogen fuel cars in California
January 31, 2014
Automaker has plans to launch its ix35 in California during the spring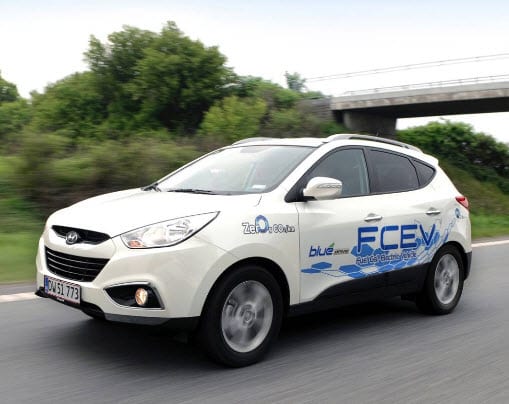 South Korean automaker Hyundai has become the first company in the auto industry to begin mass production on hydrogen fuel cars. The company has been showcasing its new ix35 vehicle aggressively in the hopes of generating more hype behind this new vehicle. Hyundai has been somewhat successful in its promotional efforts, generating a great deal of interest among consumers in Europe and the U.S. Now, the automaker is poised to launch its vehicle into promising markets and California may be the company's first target.
Hyundai acknowledges the challenges that fuel cells face in the market
Hyundai is prepared to bring its hydrogen-powered ix35 to California in the spring of this year. At a recent auto event in Washington, the automaker showed off its new fuel cell vehicle while also addressing issues concerning the challenges that fuel cells face in the world of transportation. Some of the most significant challenges that face fuel cells have to do with their high cost and the lack of an effective hydrogen fuel infrastructure. Hyundai suggests that the cost issue will be remedied with forthcoming generations of fuel cells vehicles, but infrastructure is still a problem that must be tackled.
Infrastructure remains one of the most troubling issues
Currently, much of the world lacks a hydrogen fuel infrastructure that would be capable of supporting the widespread launch of hydrogen fuel cars. As such, many automakers have been investing in the development of such an infrastructure in promising markets, such as California. Hyundai is one of the automakers that have been supporting infrastructure development, but the company is also taking steps to ensure that its new vehicle will reach consumers that are interested in hydrogen transportation.
Leasing programs will help limit the strain placed on California's fuel infrastructure
In order to avoid the infrastructure issue, Hyundai will be making its new ix35 available through leasing programs. This is expected to reduce the number of people that drive the ix35, thereby displacing any strain that would be put on California's still fledgling hydrogen fuel infrastructure. As the state's infrastructure becomes more robust, Hyundai is expected to increase the availability of its fuel cell vehicle.