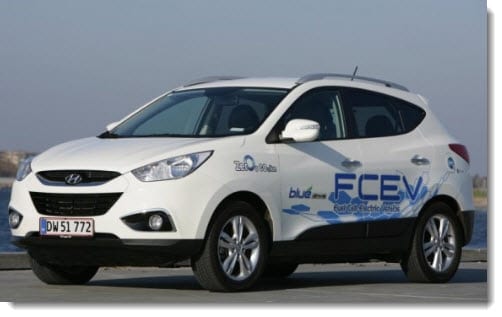 Hyundai to commercialize ix35 by the end of 2012
August 20, 2012
Hyundai announced plans to release hydrogen-powered vehicles this year
Most major automakers expect to release hydrogen-powered vehicles at some point between 2014 and 2015. This is considered the time in which the release of these vehicles would be met with the most success due to improvements in hydrogen fuel infrastructure as well as the performance of fuel cell technology. Hyundai, however, believes that the time is right to release hydrogen-powered vehicles and has announced its intention to do so this year.
ix35 presented at the Investing in Future Transportation conference in London
The South Korean automaker showcased the latest generation of its hydrogen-powered vehicles at the Investing in Future Transport conference in the United Kingdom. During the conference, Doctor Sae Hoon Kim, Hyundai's principal fuel cell research engineer, highlighted the automaker's plans to incorporate hydrogen fuel cells into the transportation industry. Dr. Kim presented the new Hyundai ix35 vehicle, which has been tested expensively in the UK and around the world. Along with the presentation, Dr. Kim announced that Hyundai plans to commercialize the vehicle by the end of 2012.
Hyundai plans to produce 1,000 hydrogen-powered vehicles by the end of 2012
By the end of the year, Hyundai plans to produce 1,000 hydrogen-powered vehicles, all of the ix35 line. The vehicles will initially only be available for government personnel and private fleets before mass production begins at some point in 2015. The ix35 is capable of traveling for 325 miles on a single tank of hydrogen fuel and can reach a top speed of 100 miles per hour. Hyundai expects that the hydrogen-powered vehicles will be well received in the UK, which has expressed the most interest in the vehicles and has ambitious plans for the establishment of a fuel infrastructure capable of supporting these vehicles.
Automaker faces limited competition until other companies introduce their own vehicles
If successful in its initiative, Hyundai will be one of the first automakers to commercialize a hydrogen-powered vehicle. It will not be the first, however, as Honda has successfully commercialized its FCX Clarity in the U.S. and elsewhere. Hyundai will have limited competition in the hydrogen fuel sector until other major automakers successfully introduce their own iterations of hydrogen-powered vehicles to the market.
Related article(s) and resources:
http://www.hybridcars.com/news/hyundai-poised-launch-hydrogen-fuel-cell-vehicle-year-50083.html