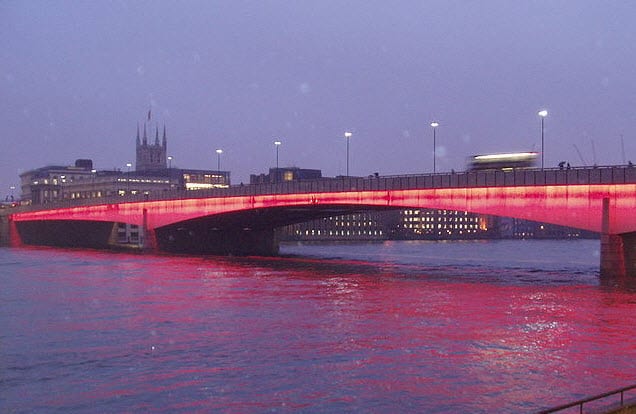 London Bridge to receive lighting update from GE and EDF Energy
December 9, 2011
The London Bridge, one of the most recognizable and well-loved monuments in the UK, will soon get an overhaul to its lighting system.
The 117-year old bridge will soon be illuminated by an array of environmentally friendly LED lights that will reduce the energy requirements of the landmark by approximately 40%. The lights will be provided by General Electric as well as EDF Energy. The new lights will be more powerful than their predecessors, allowing London residents and tourists to see the bridge much better at night.
The lights are being designed to highlight the features of the bridge so that its aesthetics are not lost during the nighttime hours. The LED lights will be equipped with variable intensity levels that will allow operators to adapt to the energy needs of the bridge. This project is part of the UK's initiative to adopt alternative energy.
While the lights are not a form of alternative energy themselves, they will derive much of their electricity from a number of solar panels to be installed on and around the bridge.
The UK has been updating several landmarks with new, environmentally friendly technologies recently. The country aims to revolutionize the majority of its energy infrastructure by the 2012 Olympic Games. Representatives from all over the world will be flocking to London to view the games, and the UK hopes to leave an impression upon world leaders when it comes to using alternative energy.