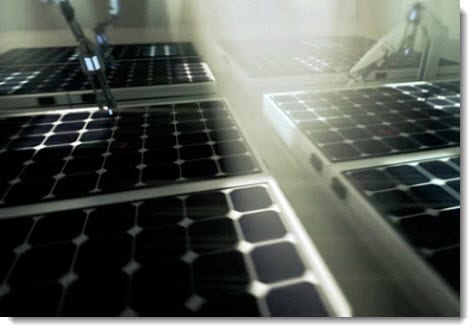 Malachite Technologies looks to make solar cells more efficient
November 5, 2012

Malachite Technologies may be able to boost the efficiency of solar cells
Alternative energy of all types are often ridiculed over matters of efficiency. Solar energy, in particular, received a great deal of criticism regarding this issue. Much of the efficiency problems that solar energy faces can be summed up in performance faults with solar cells. These faults often make solar energy unattractive for businesses that are interested in adopting some form of alternative energy. Malachite Technologies, a solar energy startup based in California, is looking to solve this problem by making solar cells more efficient.
Company develops gallium-arsenide material for solar cells
Malachite Technologies has been working to improve the efficiency of solar cells for some time. The company has set its sights on developing highly efficient semi-conductors, which are used in solar cells to generate electrical power. Researchers working with the company have succeeded in this endeavor, at least theoretically. The company has developed a gallium-arsenide material that can be affixed to the top of silicon that is used in solar cells. According to researchers, this has the potential to boost the energy output of solar cells to 38%, nearly double the output levels of the most efficient solar energy technologies available on the market today.
No shortage of competition in the solar energy field
Malachite Technologies has managed to gain acclaim for its work in the solar energy field, but there is a lot of work that must be done before the company's solution to solar cell efficiency can go mainstream. Similar companies from around the world are claiming to have succeeded in boosting the efficiency of solar energy technology, so there is a great deal of competition ahead of Malachite Technologies. Moreover, the company's efforts have yet to be submitted to extensive, third-party practical tests, thus limiting the potential of the new material somewhat.
Companies have yet to show they can commercialize efficiency solutions
Solar energy is growing more popular. This rapidly growing popularity is generating demand for more efficient solar energy technologies. Answering this demand falls to companies like Malachite Technologies, which have the capability to solve the efficiency issues that are common throughout the whole of solar energy technology. Whether these companies can commercialize these solutions, however, has yet to be seen.