New Jersey has the most offshore wind energy potential in the U.S.
January 7, 2016
Rapidly expanding wind energy off the New Jersey shore could eliminate a mass amount of carbon pollution in four years.
According to a new Environment New Jersey Research and Policy Center report, called "Turning the Wind", of all the states in the U.S., New Jersey has the highest potential for offshore wind energy production and that, by 2020, if wind power is rapidly expanded off the state's shore, it could eliminate carbon pollution equal to 1.1 million cars.
In the next five years, up to 1,700 MW of wind energy could be developed in New Jersey.
The Environment New Jersey Research and Policy Center, an environmental group that strongly supports a proposed offshore wind farm off Atlantic City, used data from the National Renewable Energy Laboratory. It revealed in its report that, if the right policies are in place, up to 1,700 megawatts (MW) of wind power could be developed in the state, which would be enough power for over half a million homes and would cut over five million metric tons of carbon emissions.
Doug O'Malley, the group's director, said that "Offshore wind's potential off the Jersey Shore is still incredibly strong." He added that "The potential offshore of Atlantic City remains an untapped jackpot."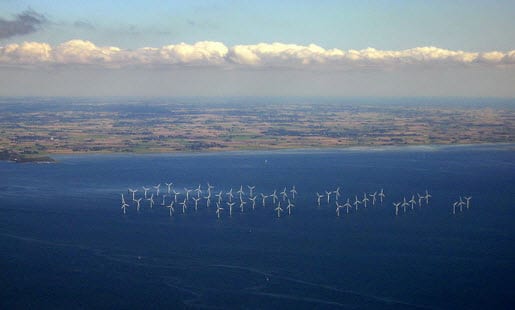 Offshore wind energy is an integral part of New Jersey's goal of generating 22.5% renewable power by 2021.
In spite of offshore wind farms being a key component in the state reaching its 2021 goal, the reality is that approval for such large renewable energy projects takes years. Furthermore, the report from the environmental group was released right before an upcoming anticipated vote in the state Legislature on an experimental wind farm off Atlantic City, reported the Associated Press.
This bill would permit the state Board of Public Utilities to approve a wind project off Atlantic City's coast. A proposal by Fishermen's Energy would construct a demonstration project three miles from the coast that could product approximately 25 MW of electricity.
To date, the proposal has been rejected three times by New Jersey energy regulators for various reasons. That being said, even if the project receives approval in the near future, it is not likely that the wind farm would be operational by 2020, although proponents of Fishermen's Energy project say it could be operational within two years.
According to O'Malley, New Jersey has the most offshore wind energy potential compared to any other mid-Atlantic or New England state because it has the largest (344,000 acres) federally approved area off its coast for renewable wind energy projects and the strong winds for them.