Residential hydrogen fuel cells coming to Japanese homes
December 11, 2014
Japan begins to support the concept of residential fuel cell systems for homeowners
Japan is moving closer to becoming a hydrogen society. This means that the country is planning to rely more on hydrogen as a primary energy source as it continues to distance itself from fossil-fuels. The Japanese government has already begun heavily supporting fuel cell vehicles, and clean transportation in general, by building a hydrogen fuel infrastructure and offering consumers tax credit for purchasing clean vehicles. Now, the government wants to see fuel cells be used for residential energy.
5.3 million homes may have their own fuel cell system by 2030
Japan is home to a relatively large fuel cell system that was able to provide electrical power to homes in the wake of the 2011 Fukushima nuclear disaster. Fuel cells have proven that they can be effective as residential energy systems and the Japanese government is ready to support their adoption as such. Several large fuel cell manufacturers, including Panasonic, are beginning to develop small, inexpensive fuel cell systems for home. The Japanese government currently has a goal of installing 5.3 million homes with fuel cell systems by 2030.
Fuel cells may be a useful energy efficiency solution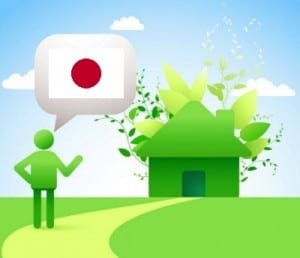 More than 100,000 residential fuel cells have already be installed in Japan. The Ministry of Economy, Trade, and Industry believes that fuel cells are a powerful energy efficiency tool and these energy systems give homeowners a way to save money on their electricity bills and become more environmentally friendly. Fuel cells can reduce strain on the national energy grid as well, allowing Japan to move away from fossil-fuels and nuclear energy more quickly.
Japan also looks to embrace solar energy
Hydrogen fuel is not the only form of renewable energy that Japan has shown strong interest in. The country is quickly becoming a leading solar energy market. The Japanese government has launched numerous incentives to help promote the adoption of solar power, especially among homeowners. In the coming years, Japan's solar capacity may grow beyond that seen in China, which has been the leading solar market for several years now.