Solar energy sector to reach $803 million by 2020 in the US
May 11, 2015
Study highlights the growth of solar power in the United States
GTM Research has released a new study, which was produced with the aid of SoliChamba Consulting, that predicts the growth of the photovoltaic sector in the United States. The country has become quite fond of solar energy, which is becoming a larger focus for utilities throughout the U.S. as an alternative to fossil-fuels. Solar projects are becoming more common and the value of the photovoltaic sector is on the rise, which is expected to have a significant economic impact.
Photovoltaic sector to reach $803 million by 2020
According to the study, distributed photovoltaic services, such as asset management and operations, are expected to reach $803 million in the U.S. by 2020. The study notes that growing competition is fueling advances in the solar energy market. As the market grows, financial, commercial, and administrative tasks are also growing, placing a greater need on skilled workers that can fill roles in these aspects of the solar energy industry. Photovoltaic technologies are also becoming more advanced, allowing solar energy systems to perform more efficiently and allowing solar projects to comply with regulations in the country.
Solar power is growing beyond the residential sector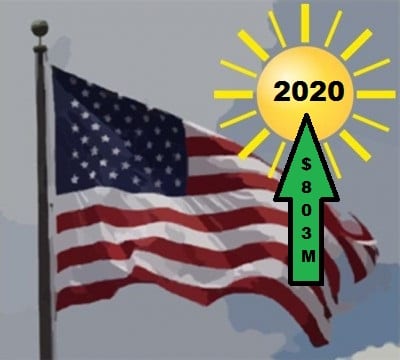 Last year, distributed solar energy in the United States reached 8.5 gigawatts of capacity, with the market reaching a value of $154 million, according to GTM and SoliChamba reports. Solar power is becoming quite popular in the residential sector, where homeowners are looking for ways to acquire electricity without having sole reliance on conventional utilities. The majority of growth in the photovoltaic sector is not likely to occur in the residential sector, however, as large-scale projects are gaining support more quickly.
US supports solar energy for the sake of economic growth
It may be some time before the United States abandons fossil-fuels in favor of other forms of energy, but solar power is expected to help the country make progress toward this goal. In the U.S., renewable energy has begun attracting focus as a way to produce electrical power in an environmentally friendly way. In some aspects, the country is showing support for solar energy as a way to combat climate change and to spur economic growth.