Super Bowl XLIX uses green energy to save power
February 3, 2015
LED Lights save energy during America's most popular sporting event.
The most recent Super Bowl (Super Bowl XLIX) may not have been the first time the New England Patriots won the Nation Football League (NFL) championship, but it was the first time that this event was played under LED lighting; green energy that saved a surprising amount of power.
The LED lighting system used 75 percent less energy than the previous system.
The most recent Super Bowl was held at the University of Phoenix Stadium. With the help of Cree and Ephesus Lighting, the stadium was upgraded with more than 780 metal halide fixtures with 44,928 Cree XLamp MK-R LEDs. These LED fixtures only require 310,000 watts of power to provide light, which is a significant difference compared to the 1.24 million watts that is needed by the standard metal halide bulbs. In other words, the LED system uses 75 percent less energy than the tradition system.
The president of Ephesus Lighting, Mike Hornez, said that Ephesus LED lights are the future of lighting and the Super Bowl is an ideal fit for the lighting system.
Green energy provided more benefits than just energy efficiency at Super Bowl XLIX.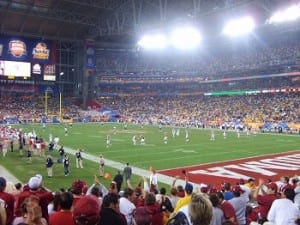 In addition to using less electricity, the LED lights also enhanced illumination and reduced the number of shadows on the playing surface. The brighter lights provided a sharper viewing experience for fans in the stadium and those watching at home on their HDTV.
The CTO and Founder of Ephesus Lighting, Joe Casper, said that "The capabilities of LED technology have changed the way we view sports lighting." Fans who watched the game live or on their television, likely noticed a clearer experience than previous years.
LED lights are expected to be installed in more major sporting stadiums in the U.S. Recently, the Minnesota Vikings, announced that for their new stadium, which is scheduled to open next year, they intend to make the switch to LED lights.
In terms of green energy, this year's Super Bowl has not only shown what clean technology can do for lighting up huge events, but for energy efficiency, as well.