Solar energy could make parking lots more eco-friendly
February 2, 2015
Solar carports would make excellent use of empty space.
There are many open parking lots in the average city and some believe that building solar carports in these open parking areas would serve a multipurpose function that would include covering cars, generating renewable electricity via solar energy, and giving an otherwise grey and empty space aesthetic appeal.
Solar parking lots could help prevent the environmentally damaging cycle of heat energy.
According to Haley Gilbert, a Researcher at the Lawrence Berkley Laboratory, 35 to 50% of the total surface area in the average city is pavement. About 50% of the pavement is parking lots and 40% of these parking lots are exposed. Gilbert says that the trouble with this percentage of exposed pavement is it causes a cycle of heat energy, which is damaging to the environment.
Gilbert explained that "because dark pavements absorb almost all of the sun's energy, the pavement surface heats up, which in turn also warms the local air and aggravates urban heat islands."
However, covering parking lots with solar panel roofs could be one of the solutions to this problem. Installing this technology in exposed parking lots would result in solar energy from the reflected heat from the sun, which could be used to power electric cars and buildings. It would also allow the air to cool down because the pavement would not absorb as much heat.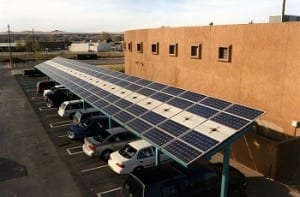 "With carports we think we have a multipurpose product that can cover our cars, generate renewable electricity and can change the view of a grey, empty space into a nice architectural function," The CEO of Solarcube, Panos Bitarchas, told Solar Power Portal. Bitarchas added that while it is an entirely different approach, Solarcube feels that car parks would be able to produce electricity "locally for heavy users."
Cost stands in the way of this solar energy innovation.
While appearing to be a win-win solution on all fronts, the primary reason why solar carports are not being built in cities is cost.
According to Chase Weir of TruSolar, this type of solar energy system is the most expensive to build. TruSolar rates solar projects based on financial risk. Weir told the Washington Post that such a project would require an abundance of steel, engineering and labor, which is costly when compared to how much solar power would actually be generated.
The other problem is that, currently, these solar-friendly carports would only be practical in some cities, because not every city has incentives or the infrastructure to support renewable energy.
Thus, while solar carports may become popular in the future, for now, these solar energy systems are primarily installed in the parking lots of large corporations and stadiums in states that support renewable power.