The Rise of Perovskite Solar Cells 2015-2025 – Market Segments, Size, Trend and Market Projections For Upcoming Years
August 17, 2015
The Report The Rise of Perovskite Solar Cells 2015-2025 provides information on pricing, market analysis, shares, forecast, and company profiles for key industry participants. – MarketResearchReports.biz
As one of the top ten science breakthroughs of 2013, perovskite solar cells have shown potential both in the rapid efficiency improvement (from 2.2% in 2006 to the latest record 20.1% in 2014) and in cheap material and manufacturing costs. Perovskite solar cells have attracted tremendous attention from the likes of DSSC and OPVs with greater potential. Many companies and research institutes that focused on DSSCs and OPVs now transfer attention to perovskites with few research institutes remaining exclusively committed to OPVs and DSSCs.
Perovskite solar cells are a breath of fresh air in the emerging photovoltaic technology landscape. They have amazed with an incredibly fast efficiency improvement, going from just 2% in 2006 to over 20.1% in 2015.
View Full Report at http://www.marketresearchreports.biz/analysis/291107
Photovoltaic (PV) technologies are basically divided into two big categories: wafer-based PV (also called 1st generation PV) and thin-film cell PV.
Traditional crystalline silicon (c-Si) cells (both single crystalline silicon and multi-crystalline silicon) and gallium arsenide (GaAs) cells belong to the wafer-based PVs. Among different single-junction solar technologies, GaAs exhibits the highest efficiency, followed by c-Si cells. The latter dominates the current PV market (about 90% market share).
Thin-film cells normally absorb light 10-100 times more efficiently than silicon, allowing the use of films of just a few microns thick. Cadmium telluride (CdTe) technology has been successfully commercialized, with more than 20% cell efficiency and 17.5% module efficiency record. CdTe cells currently take about 5% of the total market. Other commercial thin-film technologies include hydrogenated amorphous silicon (a-Si:H) and copper indium gallium (di)selenide (CIGS) cells, taking approximately 2% market share each today. Copper zinc tin sulphide technology has been developed for years and it will still require some time for real commercialization.
Download Sample Copy of this Report at http://www.marketresearchreports.biz/sample/sample/291107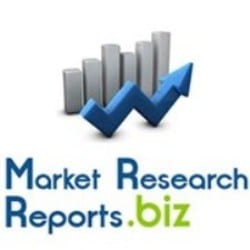 The emerging thin-film PVs are also called 3rd generation PVs, which refer to PVs using technologies that have the potential to overcome Shockley-Queisser limit or are based on novel semiconductors. The 3rd generation PVs include DSSC, organic photovoltaic (OPV), quantum dot (QD) PV and perovskite PV. The cell efficiencies of perovskite are approaching that of commercialized 2nd generation technologies such as CdTe and CIGS. Other emerging PV technologies are still struggling with lab cell efficiencies lower than 15%.
High and rapidly improved efficiencies, as well as low potential material & processing costs are not the only advantages of perovskite solar cells. Flexibility, semi-transparency, tailored form factors, thin-film, light-weight are other value propositions of perovskite solar cells.
With so many improvements, perovskite solar cell technology is still in the early stages of commercialization compared with other mature solar technologies as there are a number of concerns remaining such as stability, toxicity of lead in the most popular perovskite materials, scaling-up, etc. Crystalline silicon PV modules have fallen from $76.67/W in 1977 to $0.4-0.5/W with fair efficiency in early 2015.
Will perovskite solar cells be able to compete with silicon solar cells which dominate the PV market now?
What is the status of the technology?
What are the potential markets?
Who is working on it?
These questions will be answered in this report.
The report will also benchmark other photovoltaic technologies including crystalline silicon, GaAs, amorphous silicon, CdTe, CIGS, CZTS, DSSC, OPV and quantum dot PV. Cost analysis is provided for future perovskite solar cells. A 10-year market forecast is given based on different application segments. Possible fabrication methods and material choices are discussed as well.
The market forecast is provided based on the following applications:
Smart glass
BIPV
Outdoor furniture
Perovskites in tandem solar cells
Utility
Portable devices
Third world/developing countries for off-grid applications
Automotive
Others
About Us
MarketResearchReports.biz is the most comprehensive collection of market research reports. MarketResearchReports.Biz services are specially designed to save time and money for our clients. We are a one stop solution for all your research needs, our main offerings are syndicated research reports, custom research, subscription access and consulting services. We serve all sizes and types of companies spanning across various industries.
Contact  Us
Office: State Tower
90 State Street, Suite 700
Albany, NY 12207
United States
Tel: +1-518-621-2074
Website: http://www.marketresearchreports.biz/
E: [email protected]