Toshiba to build Japan's largest hydrogen fuel production system
July 18, 2016
Company to develop new hydrogen production system for inexpensive fuel and energy
Toshiba Corporation has revealed plans to launch Japan's largest hydrogen fuel production system, relying on new alkaline water electrolysis technology. The endeavor aims to enable the production of inexpensive, high volume production of hydrogen, thereby making it more accessible to those interested in using fuel cells to generate electricity. Once completed, the new system will be able to produce enough hydrogen in one hour to power two vehicles equipped with fuel cells.
Toshiba has managed to create an inexpensive hydrogen production solution
The new system will rely on an alkaline solution to act as the electrolyte needed to trigger hydrogen producing chemical reactions. This means that the new system will not make use of precious and expensive materials, allowing the hydrogen fuel production process to be more financially viable. Using alkaline electrolysis has allowed Toshiba to scale up the system without the system itself becoming too expensive.
Fuel cells are beginning to gain more support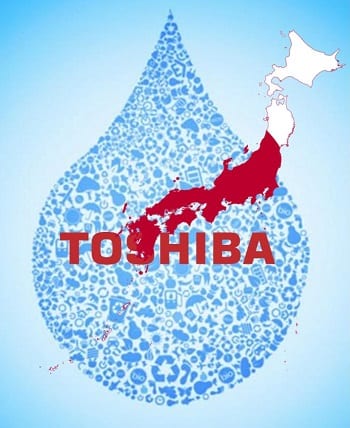 Toshiba has begun to show strong interest in hydrogen fuel, noting that it has begun to prove its value in terms of energy production. The company notes that the growing popularity of stationary fuel cells and fuel cell vehicles are evidence of the increasing viability of fuel cell systems. Hydrogen fuel production has long been a challenge facing the widespread adoption of fuel cells, however, as conventional production methods have relied heavily on fossil-fuels and are considered somewhat expensive. Developing an inexpensive means to generate hydrogen has become an important priority for many organizations interested in using fuel cells to generate electrical power.
Hydrogen economy may be taking form in many parts of the world
In the coming years, Toshiba plans to become more involved in the hydrogen sector. The company hopes to help establish a hydrogen economy, one in which hydrogen fuel cells are used as primary energy systems. These systems would be used in many sectors, especially in the residential space where they can generate electrical power and heat for homeowners. Toshiba is expected to hold a position in the global hydrogen market thanks to its development of hydrogen fuel production systems.