Toyota has a waiting list for its hydrogen fuel cell vehicle in the US
October 13, 2015
Drivers are lining up for the Mirai
Japanese automaker Toyota recently launched its fuel cell vehicle, the Mirai, in Japan and has found resounding success. The automaker recently reported that it would increase production of the Mirai due to outstanding demand. While the vehicle has yet to launch in the United States, there is already a waiting list of those that want to purchase or lease it. This may signal a shift in the company's focus, as deliveries of traditional gas-electric hybrids have been down this year, with consumers showing favor for conventional vehicles and those equipped with new technology.
Fuel cell vehicles prove their efficiency to consumers
In July of this year, Toyota began taking a list of those in the U.S. that would purchase its new fuel cell vehicle. To this date, some 1,900 people have signed up to this list, awaiting the inevitable launch. Many drivers have high expectation of the Mirai, largely due to the vehicle's efficiency. The Mirai is estimated by the U.S. Environmental Protection Agency to travel 312 miles on a single tank of hydrogen fuel. This makes the Mirai one of the most efficient vehicles in the United States, but cost may be a prohibiting factor for consumers.
Cost remains a hurdle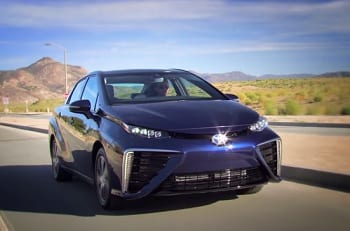 Hydrogen fuel cells are notoriously expensive. These energy systems make use of platinum, which comes in at $1,500 per gram. The platinum is used to make a fuel cell's catalyst, which powers the electrochemical processes that allow the fuel cell to generate energy. Without these catalysts, fuel cells are useless, but using platinum makes these energy systems expensive. This translates into higher costs for those wanting to purchase fuel cell vehicles, but Toyota is one of the few automakers that is offering a fuel cell vehicle at a significant loss.
Subsidies will help make fuel cell vehicles attractive, but lack of infrastructure may stunt their adoption
Currently, Toyota is pricing the Mirai at $57,500, not including subsidies being provided by state governments in the U.S. Tax credits are expected to make the Mirai more attractive to consumers, but what remains is the lack of a comprehensive fuel infrastructure that can support these vehicles. Toyota is investing in the development of this infrastructure, but building new hydrogen fuel stations has been a sluggish effort.