UK residents prefer wind energy farms to fracking sites
April 16, 2014
New research reveals lack of support for fracking in the UK.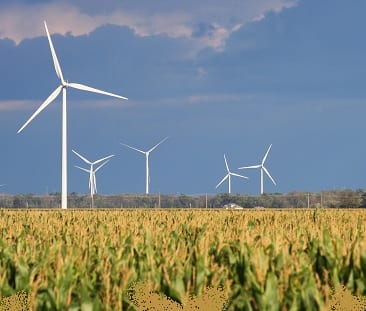 Recent YouGov research concerning the British public's opinion regarding onshore wind energy, found that 62 percent of people in Great Britain would far rather reside near a wind farm compared to the 19 percent that would prefer to live near a site where fracking occurs.
The British government has been accused of contradicting its own research.
Dale Vince, the founder of Ecotricity, a leading green energy supplier in Britain that commissioned the YouGov research, has blamed the government for contradicting the research it conducted in regard to onshore wind and the public's attitudes toward it.
Since July 2012, the Department of Energy and Climate Change (DECC) has carried out a Public Attitudes Tracking Survey. The latest results from this survey reveal that 64 percent of people are pro onshore wind energy in the UK, but only 28 percent are in support of fracking.
However, although both of the survey polls show the public's continued support for onshore wind energy projects compared to fracking, the UK government is supposedly planning pre-election promises that state otherwise. While it seems the development of wind power on land is finished, short cuts and generous tax breaks appear to be in the works for fraking.
Onshore wind power may be sacrificed in favor of solar and offshore wind energy.
According to reports, it has been suggested that the government has a greater interest in solar energy and offshore wind turbine energy than it does in wind projects that would take root on land. "Sacrificing onshore wind for offshore wind and solar makes no economic sense," said Dale Vince. He also went on to say, "Onshore wind is the cheapest form of renewable energy available to us; large solar projects cost bill payers 50% more per unit of energy made, while offshore wind costs 100% more than onshore."
Vince believes that the two forms of renewable wind energy and solar energy are needed to ensure energy security in the UK for the long term. He also thinks that onshore wind combined with the other two forms of renewables will keep overall green energy costs down.