United Airlines powers regularly scheduled flights with biofuel
March 16, 2016
According to the major American airline, it is the first to use sustainable fuel on a regular route.
Although United Airlines is not the first to have tested biofuel in its jets, it claims that it is the first to use the green fuel on a regular route. Its Boeing 737 jet that flies the Los Angeles to San Francisco route, four to five times daily, will be fueled by a mixture of 30% biofuel and 70% petroleum fuel, reported the Los Angeles Times.
The first flight took off on Friday morning.
Just slightly after 10 a.m. on Friday morning, United Airlines flight 708 left LA for SF with full crew and passengers and a full tank of the sustainable and petroleum fuel mix.
The biofuel that is used in the 30/70 fuel blend to power the plane is developed from animal fats and nonedible plant oils, and is made by AltAir Paramountat at a Southern California refinery located near the Los Angeles International Airport (LAX). United Airlines has signed a three-year agreement with AltAir, which will supply the airline with 15 million gallons of biofuel. This amount makes up about 2% of the total fuel United will use at LAX.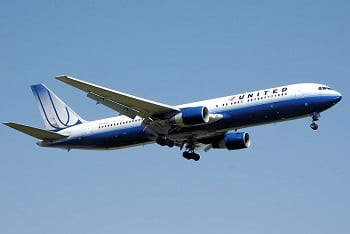 In addition to using the alternative fuel to power the jet, United Airlines has plans to continue using the alternative fuel in its regular LAX operations.
The biofuel blend reduces carbon emission by over 60% compared to traditional aviation fuel.
United Airlines says that compared to traditional jet fuel, the alternative fuel mix lowers CO2 emissions by over 60%, which is definitely a step in the right direction. That being said, the aviation industry is still a long way off from replacing petroleum jet fuel.
According to biofuel policy expert with the UCLA Institute of the Environment and Sustainability, Deepak Rajagopa, the industry is still "very, very far from meeting the global transportation needs with biofuels because so much fuel is consumed."
However, United Airlines is fully aware that their biofuel investment only accounts for a very small portion of the total amount of fuel the airline burns annually. Last year, alone, United burned over 3.2 billion gallons of jet fuel.
While 15 million gallons of biofuel certainly pales in comparison to this amount, as Angela Foster-Rice, United Airline's managing director of environmental affairs and sustainability pointed out, "You need to start somewhere."