Waste to energy operation at California brewery receives "green" award
February 17, 2015
Brewery waste is converted into energy in the Golden State.
Devil's Canyon Brewery, a brewery located in San Carlos, California that runs a waste to energy operation, received the "Business of the Year" award, last month, for its sustainable business practices, from the San Carlos Chamber of Commerce and the City of San Carlos.
The company converts brewery waste and other waste to power its operations.
The Devil's Canyon Brewery, which is linked to an anaerobic digestion system, was designed and built by Pure Energy Group (PEG), a renewable energy company from Park City, Utah. The brewery was opened last May and, according to PEG, it is the first W2E (waste to energy) project of its type to be operational and permitted in an urban environment.
The facility converts waste, such as spent grains, etc., into bio-gas, which is used to power the brewery. However, in addition to recycling this waste, according to the company, it has also been commended by San Carlos, for its "history of intercepting materials destined for the local landfill and using them internally or ensuring they go to another business or group that can benefit by re-utilizing them."
The waste to energy facility is estimated to generate bio-gas equal to about 230,000 killowatt hours of electricity, annually.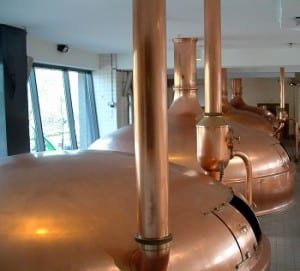 In an interview with Waste360, the CEO of PEG, Brandon Julian, explained that, in order to make beer, the brewery uses grains like malt, barley, and hops. The leftovers that result from this brewing process is known as spent brewers grain (SPG), which, for an anaerobic digester, is ideal feedstock. Through PEG's state-of-the-art IBR (induced bed reactor), the company uses the feedstock to create bio-gas. The brewery is sent the bio-gas that is produced via the IBR to counterbalance natural gas consumption.
Julian added that the Devil's Canyon system is close to being entirely optimized and commissioned. He said the facility has a 6,500 gallon reactor, which has the capacity to process 2 million pounds of SPG, annually. It is estimated that the waste to energy facility will produce the bio-gas equivalent of about 230,000 killowatt hours (kWh) of electricity, every year. That would be "enough to offset approximately 15 homes per year, which is also the equivalent of eliminating around 50 cars off the road," the CEO told Waste360.