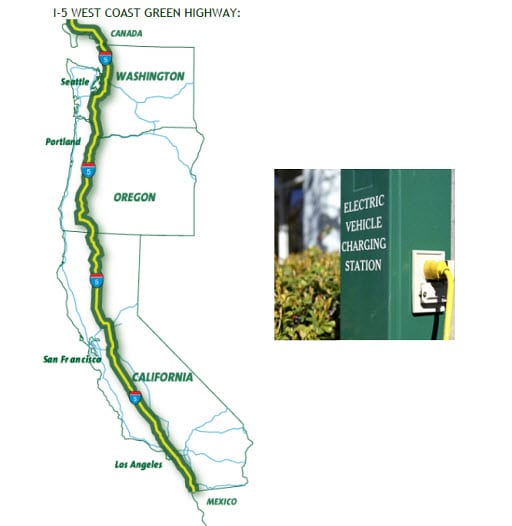 West Coast Electric Highway reaches new milestone this week
June 3, 2012
 
Infrastructure for electric vehicles grows stronger
Electric vehicles are becoming more common along the West Coat of the U.S. These vehicles have been gaining traction with consumers that have grown more concerned with the rising cost of fuel. As demand for alternative energy transportation grows, the need for an infrastructure capable of supporting it is also on the rise. The infrastructure for electric vehicle, called the West Coast Electric Highway, has been under development for some time. This week, the endeavor reached a major milestone, providing drivers with a way to keep their electric vehicles charged.
10 new charging stations opened in Washington, extending Highway to Canadian border
The Washington State Department of Transportation (WSDOT) has announced that 10 new charging stations have been opened in the state. These stations are spread out along Interstate 5 and U.S. Route 2, successfully expensing the West Coast Electric Highway to the Canadian border. These new stations have made the Electric Highway the largest of its kind, creating a powerful foundation for the adoption of electric vehicles.
Comprehensive infrastructure may make electric vehicles more popular
WSDOT officials note that the new charging stations signal the beginning of a new era in energy efficiency and environmental friendliness for the West Coast. Officials believe that the establishment of a comprehensive infrastructure for electric vehicles will encourage consumers to adopt alternative energy transportation more readily. The auto industry has already taken notice of the rising interest for electric vehicles coming from consumers along the West Coast and has been developing new vehicles to meet the needs of drivers in the region.
Charging stations to charge batteries in 30 minutes or less
Eight of the 10 new charging stations built in Washington are equipped with fast-charging technology. This technology will enable drivers to charge their electric vehicles in approximately 30 minutes or less, depending on the amount of energy that is in a particular vehicle's battery.
Driver's wishing to access these new charging stations are invited to enroll in the AeroVironment Charging Network.