Wind energy grows in Texas, but demand for electricity is falling
March 17, 2016
ERCOT shows that wind power is becoming more popular
The Electric Reliability Council of Texas (ERCOT) has announced that demand for electrical power throughout the state fell in February. The supply of wind energy, however, grew. Wind accounted for one of every 5 megawatts generated in the state, accounting for a higher percentage of the state's energy supply than what was seen last year. Notably, wind power surpassed nuclear energy, becoming the third largest energy source for ERCOT so far this year.
Wind sector expected to see strong growth in the near future
Last month, wind power accounted for 11.8% of ERCOT's energy supply. This is considerably behind natural gas, which provided 47.6% of the utility's supply, and coal, which provided 26.5%.While natural gas may be beating wind power in terms of energy supply. Texas is home to the largest wind market in the United States. Texas is leading the boom of the country's wind industry and the state government has aggressive plans to support the growth of wind capacity through 2020. This growth is due to the extension of the Production Tax Credit, which has provided financial support to wind projects taking form in the U.S.
Texas now boasts of 17,713 MW of installed wind capacity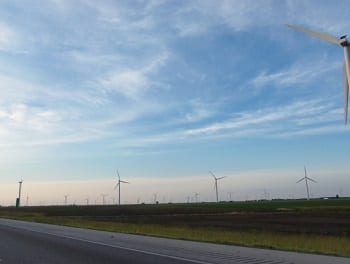 In 2015, Texas added 3,615 megawatts of new wind energy capacity. This is more than twice the capacity that has been installed in other states, such as Ohio. In total, Texas has a wind capacity of 17,713 megawatts. The state also accounts for 53% of all new wind capacity that was under construction in the United States. While wind power has been growing exponentially throughout the country, demand for electrical power has been going down.
Wind projects may bring economic benefits to the state
Wind energy is expected to see significant growth in the coming years, especially in Texas. The state is home to very strong wind currents and vast expanses of open land that is not being used. Projects can take form on this land and take advantage of the state's wind resources while also providing Texas with an economic boost.