Wind energy may be harnessed from fast moving Metro trains
April 10, 2015
Delhi University students may have discovered a new way to generate wind power.
A group of ten students from Delhi University's physics and computer science department have received permission from Delhi Metro Rail Corporation (DMRC) to install a turbine at one of the underground metro stations to see if it can successfully harness wind energy generated by the trains.
A battery measures the power generated by the turbines.
The turbine has been installed at the Chandni Chowk metro station and was carefully positioned along the underground tracks located at the mouth of the tunnel where a maximum wind velocity of 6.5m/s is available. The turbine was set up where it would not obstruct train operation and would continue to ensure the security and safety of the Metro services.
The principal investigator of the project, Punita Verma, said that a three-blade turbine was installed in the first phase, which was later followed by "a five-blade light rotor turbine with a cut-in sped of less than 1.5m/s." Verma explained that the team "connected it to a battery and measured the power it generates. We also discovered that different stations have different construction and the same turbines cannot be used at all the metro stations."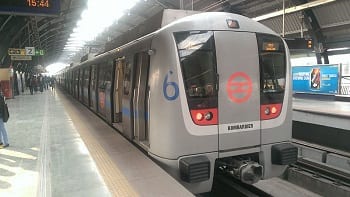 To test wind energy potential at other stations, different turbines will need to be used.
Due to the fact that the metro stations are all different in their design, the same turbines that were developed to be used in the Chandni Chowk station cannot be used in other stations that have been constructed in different styles and slopes. As a result, the team has brought in Delhi Metro engineers and is testing different turbines in different stations, based on the frequency of trains.
Once the project receives full approval from the DMRC (which will need to approve the framework and design of the wind energy generation system,), manufacturing firms will be contacted to mass produce the necessary turbines to make the system actually possible.
According to the estimated calculation made by the team behind the project, one of the turbines can produce almost 200 watts per hour and generate 2 kWh of electricity from wind energy, which will save over 445 trees from being cut down.