Wind energy may provide more than power to future amusement park
December 3, 2015
Wind farm may be transformed into an eco-themed amusement park.
Qurrent, a forward-thinking Dutch renewable energy company, has recently unveiled its plans to transform a wind farm into a sustainable theme park, which would not only feature wind energy but wind turbine rides. If its plans do become a reality, Qurrent, in collaboration with Jora Entertainment, will have created the first sustainable theme park in the world, reported Inhabitat.
The park will include the world's tallest spiraling water slide.
The company has designed the park plan in collaboration with Dutch company Jora Entertainment. In addition to solar powered eateries, it will feature several wind-powered thrill rides. Among the diverse planned attractions is the Beaufort Buster, the tallest spiraling water slide in the world, which winds around a wind turbine tower. There is also the Newton Nightmare, a drop tower ride that drops 95 meters in 1.5 seconds, as well as the Happy Hurricane rollercoaster ride and the Blade Runner, a super-fast ride on a turbine blade booster.
The wind energy theme park will be educational, as well as entertaining.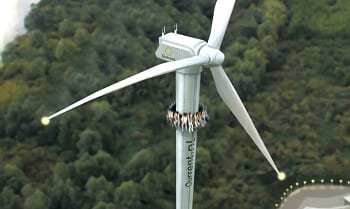 Querrent's innovative 8,000 square-meter theme park will not be the first to be powered by wind, but it will be the first to transform wind turbines into actual amusement park rides. However, the renewable energy theme park isn't all about novelty and adrenaline-packed rides. The company also wants its park to showcase renewable power and hopes to improve the public's knowledge of sustainable practices.
Qurrent CEO Richard Klatten said that "Within ten years from now, wind energy will be ubiquitous." Klatten explained that Qurrent "strives to be ahead of things, and shape the future of renewable energy. Creating an environment where people can experience clean energy in a fun and educational way could be one of those."
That being said, while the wind energy park would definitely offer thrill seekers a truly one-of-a-kind experience, the park is still in the idea phase. Before the plan can be fully brought to fruition, there are several issues that would need to be worked out, such as safety. Beyond the ideas, nothing is concrete. However, it will be interesting to see what would result if this park becomes more than just an idea in the future.