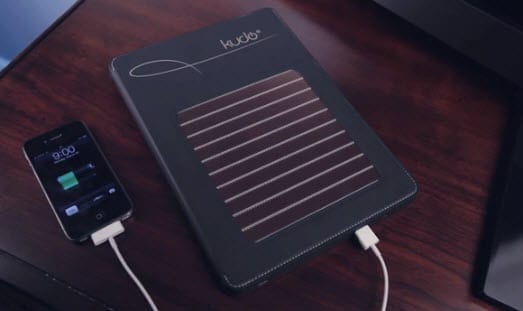 Wireless NRG powers iPad with solar energy
May 22, 2012
Solar energy and mobile electronics collide with the KudoCase
Solar energy is gaining ground all over the world, especially in countries looking to break free of fossil-fuels. This renewable energy has become vastly popular because of its passive nature as solar panels are able to generate electricity simply by standing in sunlight. While solar energy has become a topic of interest for countries, the energy has rarely been used in the world of mobile technology. Wireless NRG, a developer of alternative energy products, has brought solar energy to this sector in the form of the KudoCase.
New case powers iPads using solar energy
The KudoCase is a simple, yet effective case designed for iPads. The case is made from biodegradable plastics that make it environmentally sound, but this is not the alluring aspect of the case. The KudoCase features a small array of solar panels, which are used to collect sunlight, convert it into electricity and power an iPad. Wireless NRG estimates that the system will provide iPads with up to 10 days worth of energy before needing to be charged again, based upon average use of 2 hours per day.
KudoCase to compete with Logitech's Solar Keyboard Folio
The KudoCase is not the only device of its kind in the field. Logitech has developed a similar case for the iPad, called the Solar Keyboard Folio. This case also features small solar panels that are used to generate electricity. Unlike the KudoCase, however, the Folio is only able to use this electricity to power a keyboard that can be used with the iPad and does not charge the mobile device itself.
Solar energy and mobile technology may be a powerful pair
Alternative energy and mobile devices would seem to go hand-in-hand given the versatile nature of the technology associated with both sectors. Wireless NRG notes that solar energy, in particular, is a viable energy source for mobile electronics because these devices are often used outside and are exposed to sunlight on a regular basis. The company plans to continue promoting solar energy and developing products that make use of it well into the future.