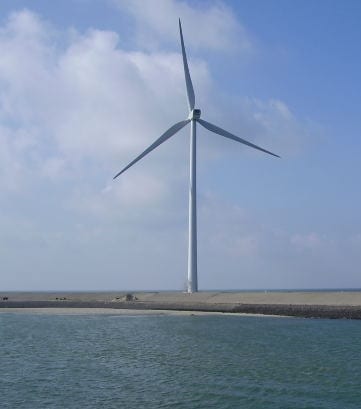 World's first floating wind turbine being tested off the coast of Maine
December 20, 2012

Floating wind turbine testing begins
The world's first floating wind turbine is now being tested in the U.S. Engineers from the University of Maine are in charge of testing the new wind turbine, which will harness wind streams off the coast of Maine. The turbine is a new development for offshore wind. Typically, turbines that are used for offshore wind farms must be built or otherwise tethered to the ocean floor. The new floating wind turbine requires no such connection, which may make it more environmentally friendly than its conventional counterparts.
Offshore wind energy could be a major boon for the East Coast
Habib Dagher, University of Maine's Advanced Structures and Composites Center director, claims that Maine has the energy equivalent of 150 nuclear power facilities that is represented by the strong wind streams that can be found off the state's coast. Harnessing this power could be very beneficial for the state and much of the East Coast. According to Dagher, two nuclear power facilities are needed to meet the entirety of Maine's energy demand. Therefore, harnessing the power of Maine's offshore wind streams could help many East Coast states break away from fossil-fuels, with the possible exception of New York, which is home to one of the most populated cities in the world.
Engineers to ensure the floating wind turbine is a capable energy system
The floating wind turbine is expected to be activated in the summer of 2013. During this time, the turbine will be tested for its feasibility and to determine whether there are any glaring engineering issues that inhibit its performance. The turbine itself is massive, with each of its blades roughly the size of the Washington Monument. The turbine's stature must be massive in order for it to be stable out at sea. The turbine will be located some 20 miles off the coast, well beyond the area in which conventional offshore wind turbines are built.
Commercial-scale wind farm expected in 2030
Eventually, the wind turbine will be used for commercial purposes. The commercial phase of the turbine is expected to begin within the next few years. If the engineering concepts of the turbine are sound, a commercial-scale wind farm with 80 floating wind turbines is expected to be installed off the coast of Maine by 2030. Time will tell whether the ambitious wind energy endeavor will pay off as it is expected to.