World's largest hydrogen fuel cell system being built in South Korea
October 2, 2014
POSCO Energy has plans to build a large-scale fuel cell power plant in the coming years
POSCO Energy, one of the largest private energy producers in South Korea, is planning to build the world's largest hydrogen fuel cell systems. The fuel cell park is located in the city of Pyeongtaek and boasts of a maximum energy capacity of 360 megawatts. POSCO has made investment agreements with Doosan, Korea Gas Corporation, Korea Investment & Securities, and two other organizations. Per the agreement, these organizations will be investing $1.9 billion into the development of the fuel cell system.
New power plant could begin producing electrical power and heat by 2018
POSCO expects that the power plant that it is building will begin generating electrical power beginning in 2018. Not only with the power plant produce electrical energy, it will also generate large amount of heat, which will be supplied to the Pyeongtaek Tourist Complex and the Poseung Industrial Complex. This is expected to further increase the value of the power plant and showcase the viability of hydrogen fuel cells and how they can be an effective renewable energy solution.
POSCO and Doosan will be responsible for developing the fuel cells that will be used at the power plant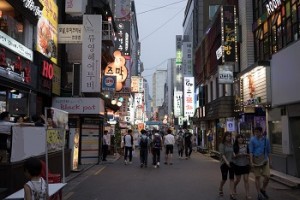 The Korea Gas Corporation will be responsible for providing the hydrogen fuel that the power plant will use to generate electrical power. POSCO and Doosan will work together to develop the fuel cells that will be used by the power plant. Several others organizations will be responsible for the financial aspects of the project, ensuring that it has enough money to take form.
Project could spark economic activity in the local area
The new power plant is expected to bring some $30 million in foreign investments to Pyeongtaek City as well as creating 500 new jobs. The power plant could have a significant impact on the local economy, especially as it reduces the need for fossil-fuels. The fuel cell system will also produce fewer emissions than traditional energy systems that are operating in South Korea. The new power plant may help South Korea make progress on its renewable energy goals as well.