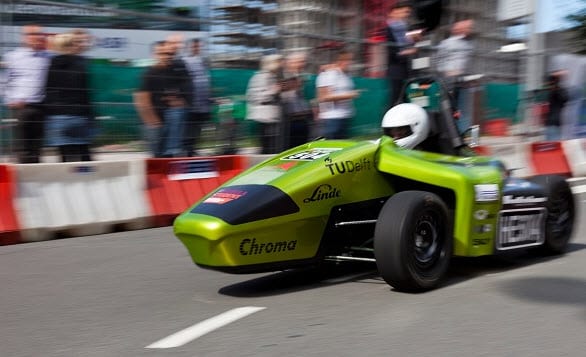 Zuken supports hydrogen fuel, sponsors two European racing teams utilizing fuel cells
August 10, 2011
Zuken, a multinational Japanese corporation specializing in electronic engineering, has announced that it will be sponsoring the Forze student racing team.
Forze is famed for their use of hydrogen fuel, getting their fuel cells from the Delft University of Technology in the Netherlands. The emergence of hydrogen in racing has been met with success, thus far. Hydrogen-powered vehicles won top honors at this year's Shell Eco-Marathon 2011, as well as other events all over the world. Zuken's support of the alternative fuel reflects a growing interest from large corporations in fuel cell technology.
As part of its sponsorship of the team, students will be making use of the Zuken's electrical CAD technology to help them design new electrical systems for future hydrogen racers. Zuken's software is used extensively in the auto industry and will serve the team will in fashioning a new generation of vehicles. Previously, the team has had to do all the electrical work manually, which slowed the production of their vehicles considerably.
The new technology will allow them to build a new car in time for the remainder of the 2011 racing season.
Zuken has also sponsored another team from the Esslingen University in Germany. This team also makes use of hydrogen fuel cells to propel their vehicles down the raceway.
With Zuken throwing its support behind hydrogen fuel, the future of racing may be on the verge of a monumental shift away from conventional engines to high performance fuel cells.