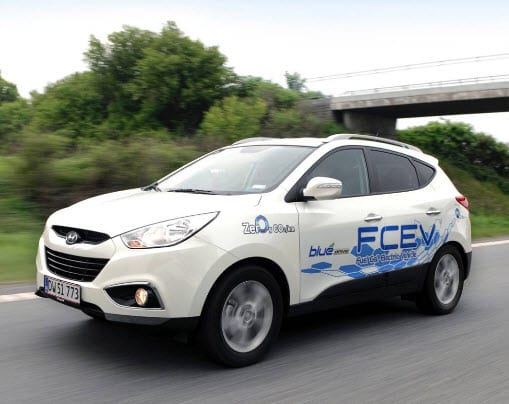 Ajusa successfully fuels Hyundai ix35
January 23, 2013

Ajusa helps establish hydrogen fuel infrastructure in Spain
Hyundai continues to make waves in the auto industry with its hydrogen-powered Tucson ix35. The South Korean automaker is expected to be the first major manufacturer to release a hydrogen-powered vehicles to the commercial market. While the ix35 is currently poised for a release at the end of this year, there are a few of these vehicles that are being used in a small handful of countries in Europe. Spain is one such country, where the ix35 is being used to test the viability of the country's hydrogen fuel infrastructure with the help of Ajusa, an automotive component and fuel cell developer.
Infrastructure needed to secure success of hydrogen transportation
In order for hydrogen-based transportation to be considered effective, there must be a comprehensive infrastructure in place that is capable of supporting a new generation of vehicles. Much of the world lacks such an infrastructure for hydrogen transportation, but that has not stopped Hyundai and others from developing a new breed of vehicles. Companies like Ajusa have been instrumental in the expansion of a hydrogen fuel infrastructure, building new stations that will be used to fuel hydrogen-powered vehicles like the ix35.
Successful fueling shows off capabilities of hydrogen fuel station
Ajusa recently fueling an ix35 at its Don Qhxote hydrogen fuel station. This marked the first time a non-Ajusa vehicle had been filled at the station and there were no problems during the fueling process. The station was opened in early 2012, but has only been used to fuel the wide assortment of prototype hydrogen-powered vehicles that Ajusa has developed. The successful fueling of the ix35 shows that the station is equipped with the appropriate technology to make it universally useful to other types of hydrogen-powered vehicles.
Spain home to modest hydrogen fuel infrastructure
Without a comprehensive hydrogen fuel infrastructure, hydrogen transportation will see very limited success. Europe currently has the most well established infrastructure in the world, much of which can be found in Germany. Spain has a relatively small hydrogen fuel infrastructure, making it a modest market for the auto industry and its plans for hydrogen transportation.