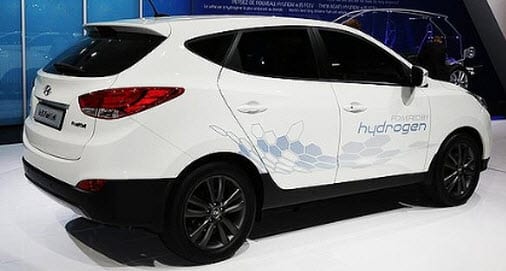 Hyundai wins prestigious award for ix35
January 21, 2013

Hyundai wins recognition for its hydrogen-powered vehicle
Hyundai has become a big name in the realm of clean transportation. The South Korean automaker is expected to be the first to bring a hydrogen-powered vehicle to the global market with its Tucson ix35. The ix35 itself has garnered a great deal of acclaim around the world and is used widely by government officials and other parties that could help the vehicle find the success it needs. This week, Hyundai won a prestigious award for the ix35, adding even more attention to the upcoming hydrogen-powered vehicle.
FuturAuto award given to Hyundai
The automaker has received the FuturAuto award during a major auto show in Brussels. The award recognizes the ix35 for its technological innovation. The vehicle was chosen from among its competitors by the Belgian Automotive Press Union, who considered the vehicle's use of a hydrogen fuel cell to be a major improvement on current transportation technologies. The Union noted that the ix35 exhibited the same level of performance of traditional vehicles, while also being significantly more environmentally friendly and efficient.
Automaker shows deep commitment to hydrogen transportation
Hyundai has begun to stand out from the crowded auto industry with its firm belief that hydrogen fuel cells are the future of transportation. The company has been working to develop a hydrogen fuel infrastructure in its native South Korea, hoping to have a comprehensive infrastructure in place before the official launch of the ix35. The FuturAuto award may help add more momentum behind the automaker's plans for hydrogen transportation.
Mass production expected in 2015
By the end of 2013, Hyundai will be producing approximately 1,000 units of the ix35. These vehicles will be targeted at very specific markets and made available in only certain parts of the world. Denmark and Sweden have already entered into deals with Hyundai to host the initial launch of its hydrogen-powered vehicle. By 2015, Hyundai will be mass producing the ix35, manufacturing more than 10,000 units every year.