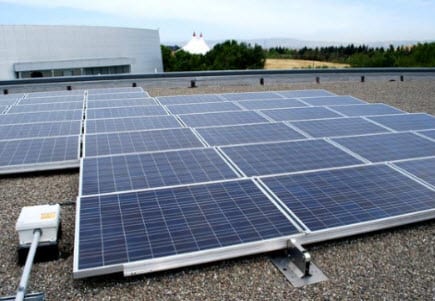 Ambitious solar energy project launched in Sydney, Australia
August 7, 2012
Rooftop solar energy project launched in Sydney
Australia is already home to some of the world's most ambitious solar energy projects. The country's high exposure to solar radiation has made it an attractive home for solar energy. Much of this attraction is represented by Sydney, which is poised to become home for the country's largest rooftop solar energy installation project. The project aims to install a vast multitude of photovoltaic solar panels on rooftops throughout Sydney. The solar panels will be installed on commercial buildings, to which they will supply some electrical power.
Solar energy project to be the largest of its kind in Australia
The project aims to install approximately 1.25 megawatts of solar energy capacity in Sydney. The country's currently largest rooftop solar energy system adorns the University of Queensland, which boasts of 1.2 megawatts of capacity. The project is somewhat expansive in its scope, encompassing 30 buildings throughout Sydney, including the Town Hall House, Glebe, and the Railway Square bus station. The solar energy project will take approximately 2 years to reach completion falls into the Australian government's larger plans for solar energy.
Projects taking root despite lack of feed-in tariffs
Sydney's pursuit of this solar energy project may be a sign of the growing viability of commercial solar energy systems and how they may be establishing a foothold in an environment that has no financial incentives for their adoption. Sydney currently does not host a feed-in tariff concerning solar energy. Instead, the city has chosen its solar energy projects carefully, hoping to find projects that fit in well with its overarching energy goals. Thus far, the city has been successful in its endeavor to find and support comprehensive solar energy projects.
Project [art of Sydney's commitment to sustainability goals
According to Sydney Lord Mayor Clover Moore, the new solar energy project is a sign of the city's commitment to reducing carbon emissions by 70% and deriving no less than 30% of its electricity from renewable sources by 2030. If the city's latest project is successful, it may be able to reach its goals relatively quickly.
Related article(s) and resources:
For more solar energy headlines.
http://cleantechnica.com/2012/08/03/sydney-to-be-home-to-australias-largest-multi-roof-solar-pv-installation/?utm_source=feedburner&utm_medium=feed&utm_campaign=Feed%3A+IM-cleantechnica+%28CleanTechnica%29